Dizzee Rascal To Support Muse On 2013 UK Stadium Tour Dates
15 February 2013, 13:32
The 'Bonkers' rapper has been announced as the special guest for this year's live outing from the band.
Dizzee Rascal has been confirmed as the support act for Muse on their upcoming 2013 UK stadium tour.
The trio, led by frontman Matt Bellamy, announced the news to fans on their Twitter account.
They wrote: "We're excited to announce that Dizzee Rascal will be Muse's Very Special Guest at all UK stadium shows this summer!"
The rapper will head to Coventry's Ricoh Arena stadium on the 22nd May when the tour kicks off and head to the likes of London's Emirates Stadium before concluding on 1st June at the Etihad Stadium in Manchester
Muse will be heading out on tour to support recent album 'The 2nd Law' which produced the singles 'Madness', 'Supremacy', 'Survival' and 'Follow Me'.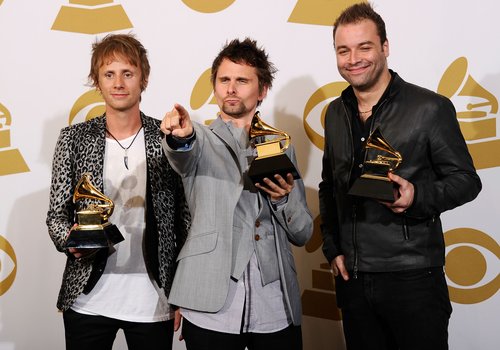 Muse's live UK stadium shows with Dizzee Rascal are as follows:
Ricoh Arena Stadium, Coventry – 22nd May
Emirates Stadium, London – 25th May
Emirates Stadium, London – 26th May
Etihad Stadium, Manchester – 1st June
Meanwhile, Dizzee is currently preparing to release his new album this year and revealed how he was asked to voice the Coco Pops monkey at the end of 2012.
The record will follow on from his recent EP 'Dirtee TV.com - The Mixtape EP, Vol.2' which was unveiled at the start of the year.