Dizzee Rascal Makes The Crowd Go 'Bonkers' With Jingle Bell Ball 2013 Performance - Setlist
8 December 2013, 22:35 | Updated: 9 December 2013, 16:27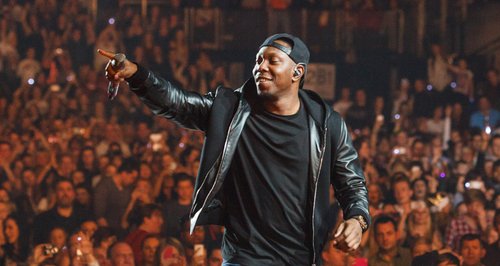 The UK rapper bought out hits like 'Bonkers' and 'Holiday' for this year's Jingle Bell Ball event.
Dizzee Rascal made sure the final night of this year's Capital FM Jingle Bell Ball 2013 was one to remember, and rounded off his set with his ultimate party song 'Bonkers' with an explosive performance.
Dizzee kicked off his set with a performance of 'The Power', which he released last year as a collaboration with DJ Fresh, which proved the perfect number to get the audience amped up for his set, encouraging them to clap along.
The UK rapper then went straight into a performance of recent single 'Something Really Bad', taking off his jacket to reveal a black t-shirt for the song.
The rapper then performed his summer hit 'Holiday', heading out to the front of the Jingle Bell Ball stage to get right up close to the crowd, and telling them: "This is what I'm talking about!'
Next up was Dizzee's ode to London 'Love This Town', his latest single from 'The Fifth', with Dizzee declaring his love for the city: "You know, I'm from London, so you know, I love this town!"
For his final song of the night Dizzee teased the crowd before raising the roof with his smash 'Bonkers', wishing the crowd a merry Christmas and a happy new year before declaring: "I think we need to get a little bit bonkers!"
Dizzee Rascal played night two of the Capital FM Jingle Bell Ball 2013 on a line-up also featuring Rudimental, Jason Derulo, John Newman and Lawson.
Check out Dizzee Rascal's full Jingle bell Ball 2013 setlist below: