WATCH: Cardi B Talking To Her Baby Bump Is Funniest Thing You'll See All Day
2 July 2018, 17:17 | Updated: 2 July 2018, 17:22
Cardi B is due to pop any day now, and as she talks to her VERY wriggly baby bump, we've decided she's going to be an absolutely iconic mum.
Cardi B is getting ready to give birth to her first baby daughter with rapper Offset, and is finding it pretty hard to be mobile, you know, what with an entire human being growing inside her and all, and has revealed a hilarious video of her asking her baby what it's doing as it kicks the 'Like It' singer about!
Cardi B Pregnant: Due Date, Boyfriend And Baby Gender Details Revealed
She been keeping her fans updated on the trials and tribulations of pregnancy, from swapping to vegan food, to ordering chocolate to see her through the night- but we actually don't think we've seen anything as pure as Cardi talking to her massive bump and asking WTF is going on down there?!
On her Instagram story, Cardi explains how "I been trying to take a nap and I can't" as the baby has been kicking furiously for hours, as you watch her stomach moving up and down saying: "It's like she in the club or something in there!"
Clearly tired by the constant kicking, Cardi tells her baby: "I'm nice to you, I give you everything!" but that baby doesn't look like its stopping anytime soon.
How Cardi can have such a hilarious relationship with a baby that hasn't even been born yet reminds us of what a legend she is.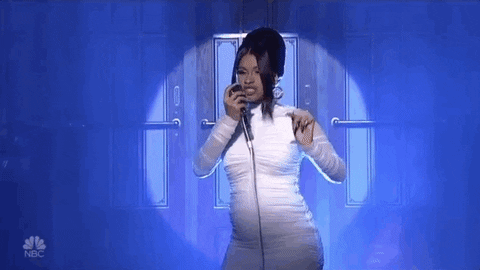 Picture: GIPHY
Download Our Brand New App For All The Latest Cardi B News