5 Times Cardi B And Nicki Minaj's Have Shown They Have Beef
13 March 2018, 17:33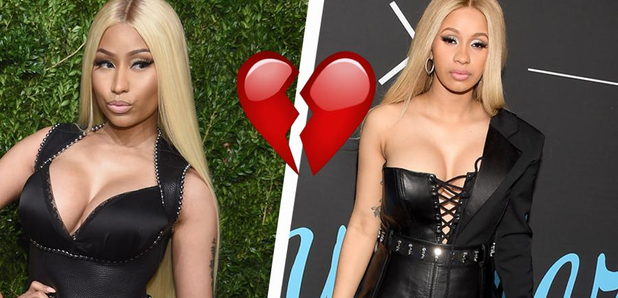 They're the two biggest female rappers in the game right now and although the two haven't officially acknowledged their beef, they definitely haven't denied it either. Here is all the shade thrown.
As much as we don't wish for this feud, it's time to accept the facts that the two have thrown some pretty clear shade toward each other.
They Refused To Meet Even Though They Were On The Same Song
Migos released Motorsport featuring Nicki and Cardi and the whole world held its breath for the ground-breaking moment the hip-hop queens united for the video. Cardi B is engaged to Offset and Quavo already had his good pal Nicki on the track, so it was the perfect opportunity?
Apparently not.
The two shot their scenes separately got everyone wondering if the two only did the song to put rumours of a feud to bed.
Cardi b and Nicki Minaj did play themselves. First ,How ya saying ya don't got beef but didn't even shoot one scene together in Motorsport?

— With a PH (@Phoreign) 9 December 2017
The Motorsport video clips im seeing looks like everything was filmed separate. Would have loved to see Nicki & Cardi in scenes together

— Youtube.com/TheNotoriousKIA (@TheNotoriousKIA) 7 December 2017
Offset recently tried to put out the fire by saying: "[There] wasn't no drama around the record, it was a 'had-to-do' record, everyone knew they had a job to be done.''
Or, it was totally missed opportunity which is now pretty awks to talk about. You be the judge.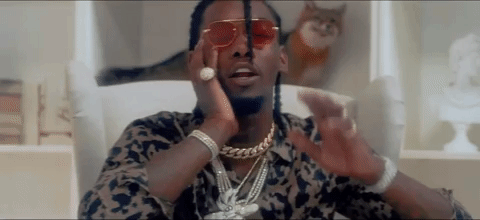 Picture: GIPHY
Cardi B Mimicked Nicki In A Video And Nicki Knew It
Nicki is obvs famed for use of colourful wigs and insane facial expressions so people were quick to point out in Cardi's most recent video with G-Eazy for 'No Limits' that Cardi has taken just a little too much inspo from the 'Anaconda' rapper.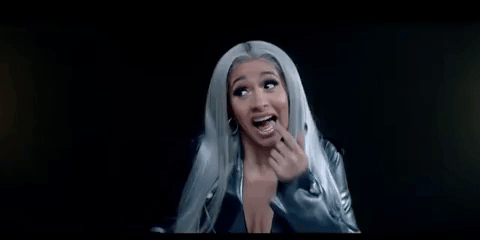 Picture: GIPHY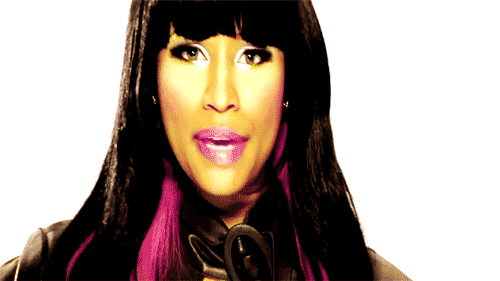 Picture: GIPHY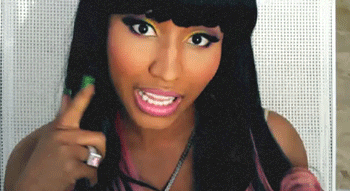 Picture: GIPHY
Either that, she's out right mocking her style. Either way, Nicki was not impressed by the whole thing. She Tweeted this out just after its release.
I'm glad y'all peeped

— NICKI MINAJ (@NICKIMINAJ) December 20, 2017
You know what they say, imitation is the sincerest form of flattery.
Nicki Rapped About Offset In Swish Swish
Featuring on Katy Perry's song which is supposed to be a shady reply to arch rival Taylor Swift's Bad Blood, Nick took to Insta to promote the single and the lyric caption all about Cardi B's boo.
We spy that tongue emoji beside Offset's name. And we KNOW Bacardi did too.
They Both Have Albums But Reportedly Won't Drop Til The Other Does
In what is fast becoming rumoured to be the stand-off of the century, both artists are rumoured to have albums ready for release.
I hope i finish this album on time

— iamcardib (@iamcardib) January 19, 2018
Nicki has basically been MIA since 2017, stepping out only for Beyonce and Jay Z's super exclusive Oscar party (we'd come out of hiding for that as well), as she's been finalising an album she describes as 'a hip hop classic.'
Cardi has been accused of stalling, but clapped back on Instagram saying: ''People who don't like me keep telling me to drop my album, you don't like me, so why are you thirsty for my album?''
She has since announced the album's release in April, so Nicki, you have a month!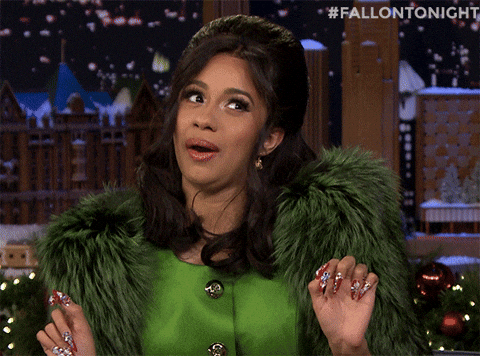 Picture: GIPHY
They've Social Media Supported Each Other In The Past And It's All Confusing
To make it an even trickier tale, the pair have spoken publicly about their love and respect for one another in the past.
I see no lies when Bardi quotes Barbie #WinAgain ~ all dat reaching you gon f around & pull a muscle...#BarbieTingz https://t.co/tHJmfhjOap

— NICKI MINAJ (@NICKIMINAJ) 15 August 2017
Congratulations to a fellow NEW YAWKA on a RECORD BREAKING achievement. Bardi, this is the only thing that matters!!! Enjoy it @iamcardib

— NICKI MINAJ (@NICKIMINAJ) 25 September 2017
They seem to be more up and down than Jelena, and we can't decide if that's a good thing or not??
Download our fancy new app to keep up with all the Cardi B gossip
Why not watch Nicki Minaj's snapchat go mental with fan messages?