BTS' 'IDOL': What Are The Lyrics In English?
27 September 2018, 15:26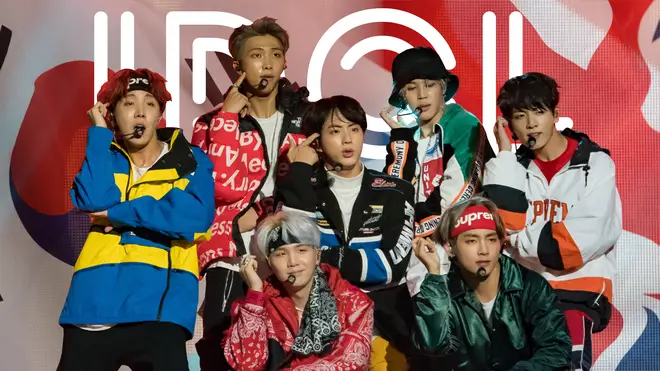 Have you ever wanted to sing along to BTS' bop, 'IDOL', but didn't know the lyrics? Well, worry know more, as we have them right here...
BTS - who are also known as the Bangtan Boys - are one of the biggest bands in the world, and their tune, 'IDOL' is a certified banger.
As the song's originally sang in Korean, we've taken it upon ourselves to translate the lyrics to English, so you can sing along with V, Jungkook, Jimin, Suga, Jin, RM and J-Hope.
> What Is BTS' Current Net Worth In 2018? How Did They Make Their Millions?
Now all we need to do is (somehow) learn those exceptional dance moves.
BTS - 'IDOL' Lyrics:
[Verse 1: RM, J-Hope]
You can call me artist (artist)
You can call me idol (idol)
No matter what you call me
I don't care
I'm proud of it (proud it)
I'm free (free)
No more irony (irony)
Cuz I was always just me
[Refrain 1: Suga, RM]
They point fingers at me
But I don't care at all
Whatever the reason for your criticism is
I know what I am (I know what I am)
I know what I want (I know what I want)
I never gon' change (I never gon' change)
I never gon' trade
(Trade off)
[Pre-Chorus: V, RM, Jimin]
Keep on chit-chatting, saying this and that
I do what I do, so you do you
You can't stop me lovin' myself
[Chorus: Jungkook, RM, Jimin]
Eolssu, I like it
You can't stop me lovin' myself
I like the shouts
You can't stop me lovin' myself
[Hook: All, Jungkook, RM]
Oh-oh-owoah
Oh-oh-owoah-owoah
Oh-oh-owoah
Dunkiduk kungduruhruh
Ulssu
Oh-oh-owoah
Oh-oh-owoah-owoah
Oh-oh-owoah
Dunkiduk kungduruhruh
Ulsoo
[Verse 2: J-Hope, Suga]
FACE OFF, just like John Woo, ay
Top star with that spotlight, ay
Sometimes like a superhero
I'm your Anpanman
24 hours isn't enough
Can't afford to be confused
I do my thang (I do my thang)
I love myself (I love myself)
[Refrain 2: Jungkook, V]
I love myself, I love my fans
Love my dance and my what
There are hundreds of me's inside of me
I'm facing a new me again today
It's all me anyway
So instead of worrying, I'm just gonna run
Runnin' man
Runnin' man
Runnin' man
[Pre-Chorus: Jin, ,Suga, Jungkook, Jimin]
Keep on chit-chatting, saying this and that
I do what I do, so you do you
You can't stop me lovin' myself
[Chorus: RM, V, J-Hope, Jimin]
Eolssu, I like it
You can't stop me lovin' myself
I like the shouts
You can't stop me lovin' myself
[Hook: All, Jungkook]
Oh-oh-owoah
Oh-oh-owoah-owoah
Oh-oh-owoah
Deonggideok kungdeoreoreo
Eolssu
Oh-oh-owoah
Oh-oh-owoah-owoah
Oh-oh-owoah
Deonggideok kungdeoreoreo
Eolssu
[Bridge: Jimin, Jin, Both]
I'm so fine wherever I go
Even if it takes a while sometimes
It's okay, I'm in love with my-my myself
It's okay, I'm happy in this moment
[Chorus: Jungkook, Suga, Jimin]
Ulssu, I like it
You can't stop me lovin' myself
I like the shouts
You can't stop me lovin' myself
[Hook: All, Jungkook, J-Hope]
Oh-oh-owoah
Oh-oh-owoah-owoah
Oh-oh-owoah
Dunkiduk kungduruhruh
Ulssu
Oh-oh-owoah
Oh-oh-owoah-owoah
Oh-oh-owoah
Dunkiduk kungduruhruh
Ulssu