Austin Mahone Treats Fans To Live Performances Of New Songs 'Mmm Yeah' And 'Shadow'
27 May 2014, 13:44
The US singer performed several tracks in front of thousands on The Today Show this week.
Austin Mahone treated fans to some incredible live performances this week on The Today show including new UK single 'Mmm Yeah' and his upcoming US release 'Shadow'.
The US superstar, who has teamed up with Pitbull for his latest released, stopped by the Rockefeller Center on Monday (26th May) to perform the songs live on stage in front of thousands of screaming fans.
He performed an energetic version of future chart hit 'Mmm Yeah', backed by several dancers, before taking things down a notch with his acoustic track 'Shadow', already a favourite with his millions of fans.
The US star was performing to promote the launch of his new US EP 'The Secret', which launched stateside this week.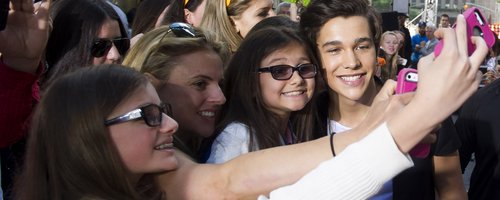 Austin Mahone release 'Mmm Yeah' on 22nd June with 'The Secret' launching a week later on 30th June in the UK.
You may also like...