Advertise With Us
28 November 2019, 12:22 | Updated: 12 December 2019, 14:20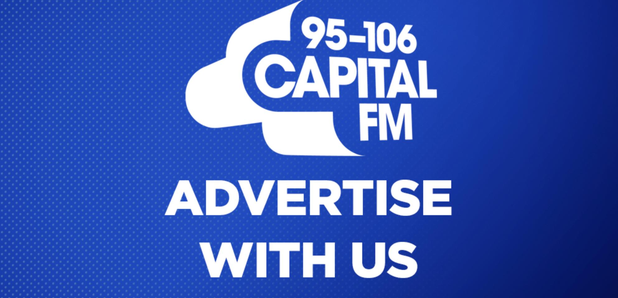 How can Capital FM tell your story?
Here's your chance to find out more about the commercial opportunities on Capital FM plus we've got the details of who to speak to next.
Why Radio?

Radio is the most real form of advertising. Because it's intrusive, your message will reach potential customers whether they're in their car, at home, at work - even in the shower. You can't turn past a radio advert like you can a newspaper advert and it's possible to target specific customers at specific times (how many times have you heard a breakfast cereal commercial first thing in the morning?). Radio reaches out to your customers - and in the same way it can create chart music success, it can create genuine success for your business.
Why Capital?
Capital is the UK's No.1 Hit Music Station, playing the biggest hits from the hottest hit music artists, broadcasting nationally. Presenters include Capital Breakfast's Roman Kemp, Vick Hope & Sonny Jay, Will Manning, Aimee Vivian, Jimmy Hill, Rob Howard and Marvin Humes.
The Capital brand currently boasts 8.1 million listeners per week.
Commercial Airtime:
Our sales team will work with you to deliver the most effective advertising campaign to tackle the specific requirements of your business. With our planning systems and knowledge of the radio market, we can ensure that your message reaches the right people at the right time.

Sponsorship and Promotions:
Another way to interact powerfully with our listeners is through our innovative sponsorship and promotions packages. As radio is the most trusted medium, these opportunities allow you to get even closer to our listeners. Bespoke shorter-term promotions can quickly build excitement and participation, while sponsorships allow you to build brand awareness over a period of time, via on-air activity, off-air events or online.
Digital Opportunities:
As well as radio opportunities, our team offer alternative digital ways to help brands tell their story. Internally, we have a team of award-winning content creators. Helping you tell your story and connect with your customers, using a multi-platform approach.
We offer:
-SEO
-ANIMATION
-DIGITAL ADVERTS
-PODCASTS
For more see www.quidemdigital.co.uk


Contact Us:
To find out more about advertising on the area's leading commercial radio station, contact Steve Orchard, CEO, Capital Mid Counties.
Email: You can email Steve on steve.orchard@quidem.co.uk
By phone: Call our office 01926 485600 (choose option 1)