WATCH: Rita Ora Pays Emotional Tribute To Avicii
30 April 2018, 15:24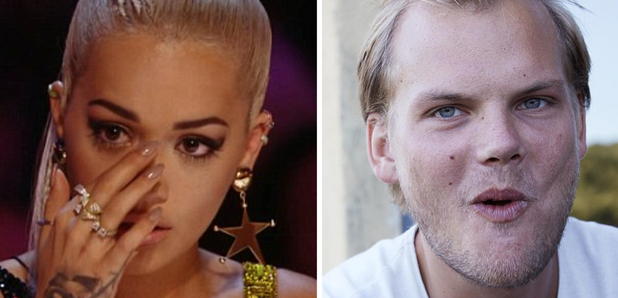 Rita Ora paused her set during a recent performance to pay an emotional tribute to Avicii.
The pair collaborated on the hit track 'Lonely Together' earlier this year.
Rita was appearing on stage as part of celebrations for King's Day in the Netherlands when she held a minute silence for the late DJ, real name Tim Bergling, who was found dead in n Muscat, Oman, on Friday April 20th.
Avicii's Former Manager Wishes 'He Could Have Saved Him Earlier' In Heartfelt Tribute
She told the crowd: "It's gonna be hard for me to sing this next song and I'll tell you why.
You can watch it here:
Credit: Twitter.
"I had the honour of collaborating with someone who changed my life and he was a really good friend of mine.
"I heard some DJs playing some of his music earlier, and I haven't sang his song that we did together ever since he passed away, until today. It's going to be very hard for me to sing this next song."
She added: "I'm obviously talking about the incredible Avicii."
I have no words. I remember how amazing it was to make Lonely Together and it felt like just yesterday we were talking. Condolences to Avicii's family, friends, and the fans who supported him. May he rest in peace. Gone too soon. I'm devastated. Heartbroken.

— Rita Ora (@RitaOra) April 20, 2018
The Swedish DJ's family released a statement last week describing him his as a 'fragile artistic soul' and said he will 'forever be loved and sadly missed'.
It read: "Our beloved Tim was a seeker, a fragile artistic soul searching for answers to existential questions. An over-achieving perfectionist who travelled and worked hard at a pace that led to extreme stress.
"When he stopped touring, he wanted to find a balance in life to be happy and be able to do what he loved most – music.
"He really struggled with thoughts about Meaning, Life, Happiness. He could not go on any longer."
Our thoughts are with his family at this difficult time.