The Wanted Open Up On Nathan Sykes' Throat Issues: "We Slowly Realised It Was Serious"
4 June 2013, 10:54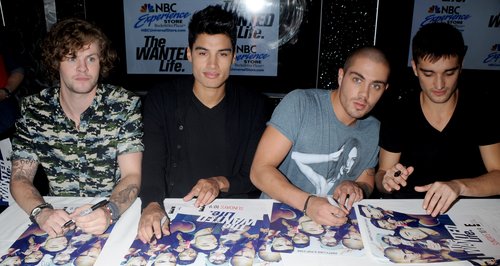 The UK band say their TV show will give fans a new insight into the issues Nathan has faced in recent weeks.
The Wanted have opened up about the moment they realised band member Nathan Sykes' throat issues were serious, as well as discussing how much of the problem is covered in their new reality show.
The 'Walks Like Rihanna' five-piece launched The Wanted Life in the US on E! this past weekend, and promise fans they will get to see a different side to the UK boy band in the episode that covers Nathan's throat operation.
"We had an extensive touring and travelling schedule for the past year, and Nathan is singing really hard and different songs and has a lot to do," Jay McGuiness revealed to MTV News this week. "We could hear that he was getting ill, going on and off, but no indication that there was a serious problem.
"As the show started, we slowly realised it was getting serious and the producers were all like , 'Hopefully, he's ok'," Jay explained.
Check out a picture of The Wanted out at a fan event in New York City below (Credit: PA):
The 'Chasing The Sun' stars went on to say they only realised the severity of the issue after Nathan came around from his surgery, and admit it was an emotional moment for the band.
"The moment you see Nathan come around from his operation, we didn't know whether to laugh or cry because he second he's up there on top of the world, and the next minute it hit him," Max George recalled. "You can go completely low and be upset, but I think the moment you see him come around is really going to hit home with fans and how serious it was."
The youngest member of the band, Nathan is currently back at home recovering and resting his voice while the rest of The Wanted promote their new single 'Walks Like Rihanna'.
"The surgery was completely successful but it's just road to recovery and seeing what the doctor says," Jay added.
The Wanted are set to open the Capital FM Summertime Ball 2013 this coming Sunday 9th June at Wembley Stadium.