The Wanted's Nathan Sykes Shows Support To Girlfriend Ariana Grande At Her Show
3 December 2013, 11:32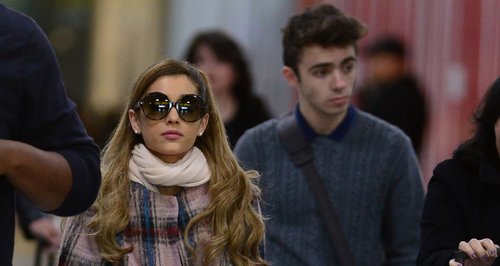 The 'Walks Like Rihanna' star was spotted sharing an embrace with Ariana backstage in Texas.
The Wanted's Nathan Sykes showed his support to girlfriend Ariana Grande this week out in Dallas, Texas for one of her shows.
The 'Show Me Love (America)' singer was spotted sharing a tender cuddle backstage at the US radio event on Monday (2nd December), after her live set at the show.
'Tattooed Heart' singer Ariana performed in a racy, but festive, outfit of white mini-shirt paired with a matching cropped top, while Nathan watched her performance from backstage.
Check out a picture of Nathan Sykes and Ariana Grande backstage together at the event below (Credit: Getty):
"Beautiful day in Dallas, loved meeting the fans at the airport last night. You were so cute," Nathan tweeted yesterday, before later adding: "Tonight was so much fun i don't want it to end but I know I'm gonna sleep like a baby."
Last month Ariana opened up about her romance with The Wanted star Nathan, after they went public with their relationship in August, and says she loves getting the chance to sing with him on stage.