Stormzy's Merky Birthday Bash: Sneak Peak Inside His 24 Hour #Merky Rave In Spain
26 July 2018, 12:08 | Updated: 26 July 2018, 12:19
Stormzy's birthday bash is upon us, and he's keeping us updated with his every movement, including packing all his nearest and dearest onto 'Merky airways' and flying them out to Spain, FOMO alert!
If you're a Stormzy fan, and you're not currently sat on a Merky airways flight to Spain for the birthday bash of a lifetime, you might want to look away now because you are about to get seriously jealous of his star-studded plan headed out for sun, sea and some of the finest Grime music money can buy.
Stormzy Just Made This Random Woman's Day And Now They're BFF's
Yup, Stormzy's upgraded from last year's celebrations which saw him rent out the whole of Thorpe Park for fans, fellow rappers , friends and fam to put on a one day only extravaganza over in Spain, which he promises is going to be so massive it will 'be a movie'.
A whole plane has been kitted out with 'Merky airlines' headrests, bags, t-shirts, sunglasses, hats, you name it, they've merked it and we can honestly barely contain our envy. The 'Big For Your Boots' rapper has promised to document the whole thing on his Instagram, so stay tuned, it's bound to be epic!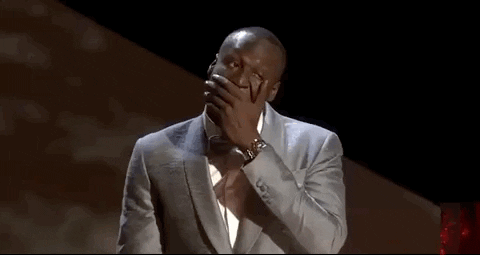 Picture: GIPHY
Download Our Brand New App For All The Latest Stormzy News