Robbie Williams Responds To Liam Gallagher "Fat Idiot" Jibe And Slams Beady Eye
22 June 2013, 08:14 | Updated: 22 June 2013, 08:17
The 'Let Me Entertain You' singer hits out at the recent comments from the former Oasis man.
Robbie Williams has responded to recent comments from Liam Gallagher – who labelled the Take That man a "fat idiot" as he grew jealous over the venue's the singer was performing in.
The former Oasis man's remarks came during a Beady Eye gig in Manchester this past week where he couldn't understand how Robbie's show's were much grander than his own band's.
Speaking to The Sun, the 'Candy' singer revealed that he enjoys listening to Liam speak in interviews more than listening to his music these days.
"The interviews are better than the records at the minute," he said. "I really enjoy the interviews. Liam is like an episode of Star Stories."
The new Beady Eye album has divided critics and Robbie thinks some of the tracks needed a bit more work.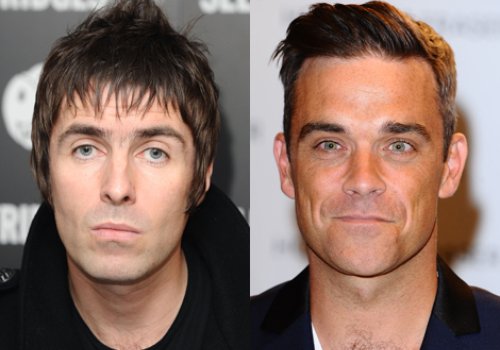 "The production is really good. There are a couple of tunes that would have been f***** amazing if they had a chorus," he said. "'Flick Of The Finger', nearly a great tune. Start Anew, if that had a chorus, but there is no chorus."
The pair's feud goes back to 90s and during the BRIT Awards in 2000 – Robbie challenged Liam to a fight for charity.
Robbie's 'Take The Crown' stadium tour will continue with one final show at the Etihad Stadium in Manchester before heading to Glasgow and London.