Yep, This ACTUALLY Happened. Robbie Williams Live Blogs Birth Of His Son!
28 October 2014, 09:27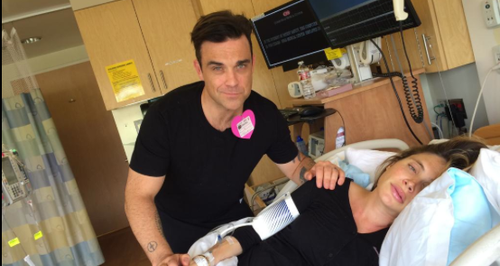 We feel for Robbie's wife, Ayda, as the singer posted hilarious photos and videos throughout her labour.
We can imagine that the last thing most women want while they are in labour is their partner live blogging every excruciating moment – but the resulting photos and videos from Robbie Williams ARE pretty amazing!
Robbie and Ayda kept the fans entertained throughout the long labour – and kept her mind off the pain – by posting funny videos of the two of them clowning around in the hospital.
Style queen Ayda turned up to give birth in her Louboutins – so chic! – and Robbie proceeded to sing 'Let It Go' from Frozen as she pushed. Errrrmmm….
When Ayda goes into labour she comes correct ; ) RW x pic.twitter.com/BjikS91e3s

— Robbie Williams (@robbiewilliams) October 27, 2014
Once their new baby boy was born, the pair also posted a video to say "No moms were harmed in the making of these videos" – and they have definitely cemented themselves as our favourite celebrity couple EVER!
Ayda gave Robbie a sexy dance:
Robbie was super helpful singing his hit song 'Candy' at her….
He also showed his solidarity by shuffling down the corridor with her IV drip:
In case you were worried during the long labour, Robbie was doing fine…
Mr Williams definitely didn't want to risk getting his coat dirty as Ayda's waters were broken:
Things started to get serious:
It's fine, Robbie's "totally got this"…
"It's ok, I've totally got this" pic.twitter.com/0BDWxLQQFJ

— Robbie Williams (@robbiewilliams) October 27, 2014
No, really. He's got this…
Like i say..totally got this. RW x pic.twitter.com/64lO9rEKoB

— Robbie Williams (@robbiewilliams) October 27, 2014
What could be a more soothing soundtrack to birth than 'Let It Go' from Frozen?
It's all over! Look how happy they are!
You May Also Like: