PSY Credits Robbie Williams And Queen With Inspiring Him To Be A Pop Star
10 June 2013, 13:18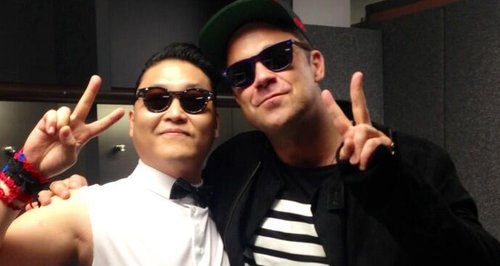 The Summertime Ball 2013 star said at the event that both male superstars have been big influences on his career.
PSY has credited Robbie Williams and Queen as the two acts who most inspired him to become a pop star.
The South Korean pop star performed live at Wembley Stadium on Sunday (9th June) for the Capital FM Summertime Ball 2013, and said at the event that Queen's iconic 1986 Wembley show was one of his biggest inspirations as a performer.
"If it wasn't for Queen at Wembley, I wouldn't be a pop star," PSY told The Sun during the Summertime Ball. "When I was growing up I would watch Freddie Mercury with all those fans in the palm of his hand.
"He is the best," PSY explained, before also naming fellow Summertime Ball superstar Robbie Williams as another big influence on his career.
"Robbie was one of the first to tweet 'Gangnam Style' so I feel I owe him a lot," PSY revealed.
Check out a picture of PSY performing live at the Ball below (Credit: Andy Squire):
PSY also spoke directly to Capital FM about Queen and frontman Freddy Mercury in particular being inspiring to him during his youth.
"When I was 14 I saw the video footage of Queen at Wembley Stadium and that was the very point when I started to dream about doing something in the music industry," he revealed in a video interview at the Ball.
PSY's Summertime Ball debut saw him perform both 'Gentleman' and 'Gangnam Style', as 80,000 screaming fans joined him to dance along with the latter song at Wembley.
Keep it Capital as we recap all the action from Wembley Stadium in our Summertime Ball area.
Tune into Capital TV, on Sky channel 388 and Freesat 517, tonight (10th June) from 7pm for all the best bits from the Summertime Ball.