PSY Unveils New Song 'Gentleman' Official Music Video
13 April 2013, 17:43
The K-Pop star returns with a new dance and an entertaining promo for his follow-up to 'Gangnam Style'.
PSY has finally unveiled the official music video to his new single 'Gentleman'.
The track is the follow-up to the huge global viral smash 'Gangnam Style'.
The K-Pop star promised that he would also be debuting a new dance in the video in an attempt to rival his famous riding horse moves from his last video.
'Gentleman' sees the star working his hips in a gyrating fashion as well as a side-step routine which is truly unique.
The promo also sees the singer playing pranks on everyone he meets.
PSY pulls people's chairs from under them, kicks a children's football away, presses every button in the elevator and also causes havoc in a gym.
He is joined be a troup of dancers towards the end as they all take place in the new dance routine.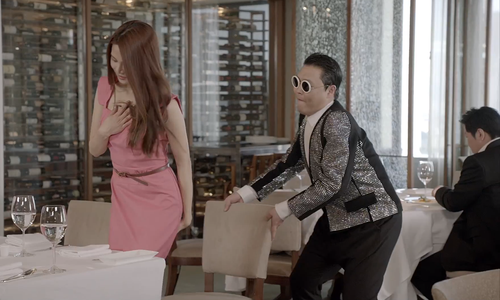 'Gangnam Style' became the first music video to hit one billion views on YouTube and has won fans around the world – including Liam Gallagher and Dave Grohl.
Watch the official music video to 'Gentleman' below: