Fake PSY Says Cannes Film Festival And Monaco Grand Prix Were Marketing Stunts
29 May 2013, 10:32
The 'Gangnam Style' singer has seen an impersonator fooling celebrities at high-profile events.
PSY's impersonator, who showed up at Cannes Film Festival last week and this past weekend's Formula One Grand Prix in Monaco has spoken out for the first time.
The 34 year-old, real name Denis Carre from Ireland, told GQ that it was never his intentions to upset anyone or get freebies.
"One thing I really want to say to the crowd out there, is I really didn't do that to take advantage of anyone or to upset anyone," he told the publication. "It was just a marketing shot, and I did it for entertaining people."
Fake PSY admitted he is hoping to forge a career as a professional lookalike and managed to fool various celebrities at last week's events.
"So the aim was for people to discover who I am, as a lookalike," he continued. "Obviously, it makes commercial sense in terms of the fact that we already have more requests for bookings from nightclubs. But the principal aim was purely a one-shot marketing/public relations trick."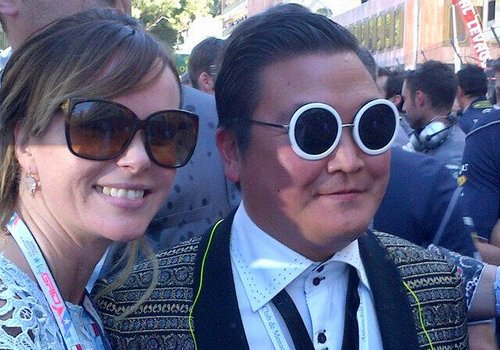 He continued: "The aim was not—as a lot of the press is saying at the moment—to drink for free and eat for free!"
Dennis admitted the only thing he has found trouble getting used to is no longer wearing socks.
"I read in interviews that he doesn't like wearing socks. So that's the only thing I had to get used to," he added.
Meanwhile, the real PSY is set to head to Wembley Stadium next month for Capital FM's Summertime Ball 2013.