Foo Fighters Star Dave Grohl Reveals His Love For PSY's 'Gangnam Style'
16 March 2013, 09:01 | Updated: 16 March 2013, 10:08
The rock star made the declaration on stage at the SXSW Festival in Austin this week.
Dave Grohl admitted that he thinks PSY's 'Gangnam Style' is one of his favourite songs of the last ten years.
The Foo Fighters man was appearing at the Austin Convention Center as he delivered the keynote speech at the SXSW Festival 2013.

"I hope I still look like a rock star," he said at the start of his 50 minute talk.
"I can truthfully say out loud that 'Gangnam Style' is one of my favourite songs of the past decade."
The former Nirvana drummer also went on to discuss his own musical inspirations, career past and advised fellow musicians to ignore the charts and concentrate on doing their own thing.
"There is no right or wrong," he said. "There is only your voice, your voice screaming through an old recording console, singing from a laptop, echoing from a street corner, a cello, a turntable, a guitar."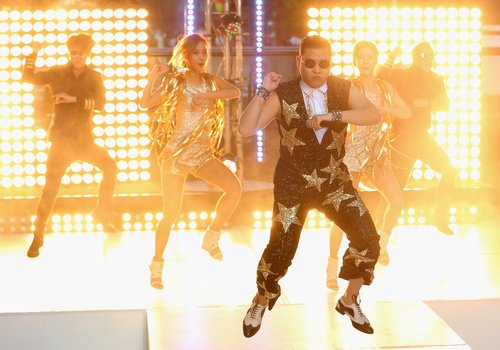 Dave's not he first rock star tp share an affinity for 'Gangnam Style'.
Liam Gallagher also professed his love for the song during an interview earlier this year and said the track was "an absolute classic".
Meanwhile, PSY is preparing to unveil the follow-up to the global dominating track next month via a special worldwide broadcast.