PSY's Life Story Gets Turned Into New Comic Book
1 May 2013, 11:03 | Updated: 1 May 2013, 11:05
The K-Pop singer can be seen in a new comic which charts his rise to fame and current worldwide success.
PSY's life story has been turned into a new comic which went on sale in the US and South Korea this week.
The man who rose to worldwide fame in 2012 with his huge viral hit 'Gangnam Style' has now been featured in a full colourful comic.
"Has he fallen from the sky. Has he risen from earth," reads one of the pages as they highlight the phenomenon that swept the globe.
The comic charts some of his past musical achievements from the days of his debut album with shots of him as a youngster in the studio.
Fame: PSY also documents his "bgi break" into music as well as his run ins with the law.
Check out one of the pages from the PSY comic book below: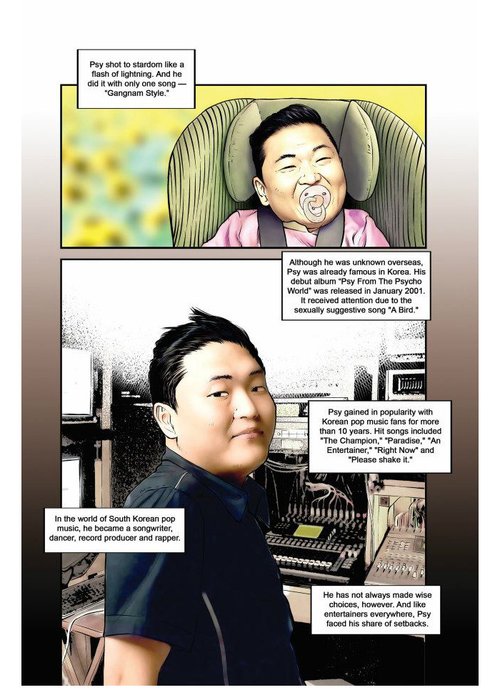 The comic also includes a full guide on how to complete the K-Pop star's famous horse riding dance routine which accompanied 'Gangnam Style'.
Meanwhile, PSY recently unveiled his follow up single 'Gentleman' – and admitted the week before its release was the "worst" of his life.
He spoke about the pressures of matching the same success and his trepidations at being known as a one hit wonder.
The video has since gone on to clock over 250 million views and is on its way to match the billion count of his previous release.