Nicole Scherzinger Tells Us About 'Your Love', New Album And How To Get The Scherzy Bod!
15 July 2014, 16:38 | Updated: 15 July 2014, 17:30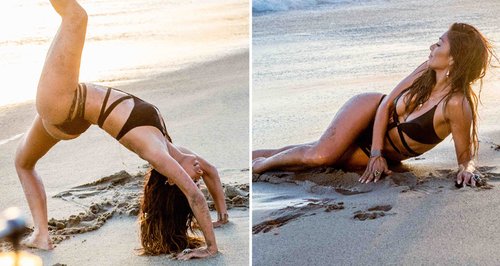 Nicole talks us through the 'Your Love' video prep and her exercise tips - Scherzy body here we come!
Nicole Scherzinger has possibly never looked more incredible than she does in her new video for 'Your Love', so we sat down with the lady herself to hear all about the video, whether we can expect a tour and, most importantly, to find out the secrets behind the killer Scherzy body!
'Your Love' is the first release from Nicole's forthcoming album, but what else does she have in store for us on the record? Nicole told us, "I'm really excited because I finally feel like I've found my own sound, my Nicole sound. 'Your Love' is actually a bit more poppy than the rest of the album. The album still is pop, but it's pop-urban, pop-R&B. It's very vibey, it's cool, it's got a lot of soul and it's a very personal album to me."
And with Nicole taking time out to focus on her music career over her other projects, will we be able to see her on tour soon? She told us, "I'm so grateful that I'm able to just focus on my music now. I've cleared my schedule just to do that so of course that means touring, getting the music out there. Later on I'll be doing that and next year I'll probably be on the road." Eek!
Nicole looks INCREDIBLE in the video for 'Your Love', but it wasn't just a case of her frolicking on the beach in heavenly Malibu – Scherzy actually worked for a month to get into shape for the shoot. She told us, "This is a new chapter in my life, new music, new label, new everything. With the 'Your Love' video I wanted to strip it all back, not much make up, not much fancy clothes or choreography or anything, just a fun, contagious feel-good raw energy. I worked really hard for the video. People think I'm just frolicking around on a beach but I prepared a month in advance. I wanted to be strong not only physically but mentally for this new chapter. I was doing a lot of yoga and a lot of weights and training so I'm really happy with the way that the video came out."
So how do we mere mortals get that bod, then? Nicoles top tips are, "Obviously lots of exercise, sleep is really good and lots of water. You just have to make sure that you're eating healthy and balanced and just not too late at night. But everybody is different and every body is different so you just have to do what's best for you, but a little bit of exercise is so good for anybody." If it means we look like you, we're off to the gym!