WATCH: Niall Horan Reveals Why He Squeezes His Bum Cheeks With On Stage Demonstration
23 April 2018, 12:25
Whilst on stage in Copenhagen, Niall let fans into a little secret about exactly why he squeezes his bum cheeks when performing 'Fools Gold'!
Watching Niall Horan on stage is an incredible moment in anyone's life. Those vocals, that cheeky smile, those bum squeezes.
Yep, some of you might have noticed that when Niall is on stage at one of his shows and performs the song 'Fools Gold', he actually squeezes his bum cheeks together at certain points whilst he's singing.
> Every One Direction Song EVER: Ranked
Well the Irishman has finally revealed why and we're wondering how many other people do this!?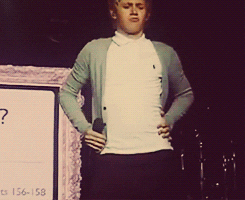 GIF: Giphy
Just before he performed on stage in Copenhagen, Niall told the crowd how his vocal coach taught him a trick to improve his vocals. "When we were in rehearsals for this, she told me that when I sing 'Fools Gold' and I get to the 'oooh' i must do this", he said before he proceeded to stand up.
After demonstrating to the crowd, Niall claimed, "and squeeze my bum cheeks together, because apparently you can hit the note better if you do that".
So now everytime we see Niall perform that song we're gonna be keeping an eye out for the bum squeeze moment - so thanks for that Niall!
> Download Our Free App For Loads More Niall News!
Whilst you're here, check out Niall performing Camila Cabello's 'Crying In The Club'...