WATCH: Ne-Yo Reveals Where He Keeps His Three Grammys And Why Ed Sheeran Should Win
6 February 2015, 16:16 | Updated: 6 February 2015, 16:24
Ne-Yo is no stranger to a Grammy (or THREE!) so who better to give advice on the show and who should win the coveted Best Pop Album award.
Ne-Yo is something of a Grammy Awards veteran – well he does have three to his name after all – so who better to give other performers some advice ahead of the big event?
Ne-Yo told Max why he will be looking forward to this year's event, "I've been to the Grammys before and it's always a great show, it's always a good time. But if I'm performing, then the stress levels are high and you get the butterflies and all of that. But if I'm not performing then I get to just go and be a fan for a night, which I don't get to do a lot."
And with the Grammys being one of the biggest awards shows globally, what does Ne-Yo suggest other artists should do besides not being too pretentious or doing some contrived crying if they win?
He advised, "You need to make sure your outfit is absolutely on point because you don't want to be on that worst-dressed list. I don't think I've ever made the worst dressed list, I don't THINK I have."
And with THREE of the coveted awards already under his belt, where does Ne-Yo keep his Grammys? Well, two of them are on a bookshelf in his house, but the other one has a VERY prestigious place.
He revealed, "Two of them are with me and one of them is with my mum. My mum created like a pedestal with this little spinning thing for it, it's kind of cool. I don't know how much she spent on it but it's definitely a piece, you walk into the house and she goes 'THIS is my son's Grammy'."
When asked which artist out of the INCREDIBLE nominees Ne-Yo would tip for winning the Grammy for Best Pop Album, he admitted he would hate to have to make the decision.
"If I personally had to choose I would be the most stressed person alive! Out of all of them, probably Pharrell Williams or Sam Smith, but from a songwriters standpoint, I am a man that pays attention to lyrics and the cleverness of the lyric and Ed Sheeran is definitely that guy. So from that place, I'd definitely have to give it to Ed."
R&B sensation Ne-Yo joins Max this Sunday from 7pm in the run up to the Grammy Awards.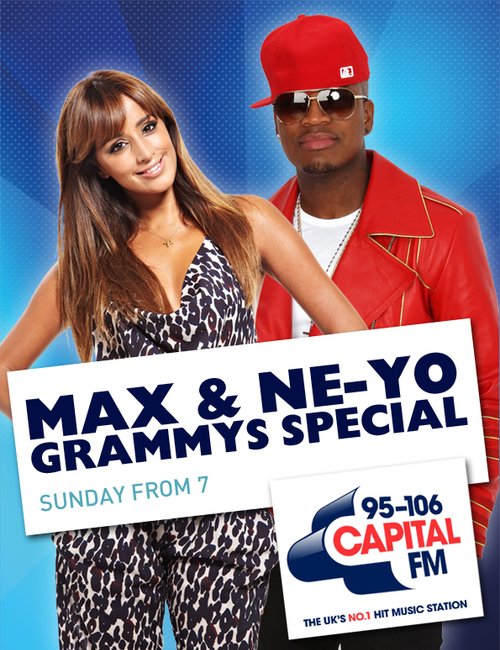 Catch Max on Capital Monday - Thursday from 10pm and from 7pm on Sunday.
You May Also Like…