McFly And Busted Extend McBusted 2014 UK Arena Tour
29 November 2013, 11:36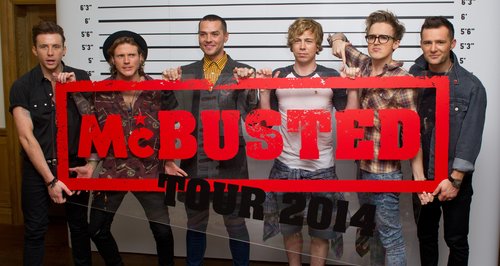 Find out when and where the new supergroup will be performing and how to get your hands on tickets.
McFly and Busted will unite in 2014 as a new supergroup called McBusted for a new arena tour across the country, and have now added four additional dates due to overwhelming demand.
The two groups announced the news in London last week (11th November) as part of a special event confirming plans for Busted stars Matt Willis and James Bourne to join McFly for the special tour from April next year.
McBusted will kick off their tour with a show in Glasgow on 17th April, performing 21 shows up and down the country at cities including Liverpool, Newcastle, Birmingham, Sheffield and at London's O2 Arena.
Busted originally split back in 2005 after two incredibly successful albums, with the likes of 'Air Hostess' and 'Year 3000' among their many hits, although original member Charlie Simpson has opted not to be involved with the reunion tour.
Tickets for the McBusted 2014 tour are on sale from now.
To book yours call 0330 33 33 123 or click the buy tickets button below:

Check out the full dates for McBusted's 2014 tour below:
Glasgow (SEE Hydro) - 17th April
Glasgow (SEE Hydro) - 18th April
Liverpool (Echo Arena) - 19th April
Bournemouth (BIC) - 21st April
Bournemouth (BIC) - 22nd April
London (O2 Arena) - 25th April
London (O2 Arena) - 26th April
Newcastle (Arena) - 28th April
Nottingham (Capital FM Arena) - 29th April
Leeds (First Direct Arena) - 20th April
Birmingham (LG Arena) 2nd May
Birmingham (LG Arena) - 3rd May
Sheffield (Motorpoint Arena) - 4th May
Cardiff (Motorpoint Arena) - 6th May
Cardiff (Motorpoint Arena) 7th May
Manchester (Phones 4 U Arena) - 9th May
Manchester (Phones 4U Arena) 10th May
Manchester (Phones 4U Arena) 11th May
Liverpool (Echo Arena) - 13th May
Glasgow (SEE Hydro) - 16th May
Birmingham (LG Arena) - 17th May
Sheffield (Motorpoint Arena) - 19th May
Nottingham (Capital FM Arena) - 20th May
Newcastle (Arena) - 21st May
Cardiff (Motorpoint Arena) - 23rd May
Brighton (Brighton Cenrre) - 24th May
Birmingham (LG Arena) - 27th May
Bournemouth (BIC) - 28th May
Bournemouth (BIC) - 29th May
Belfast (Odyssey Arena) - 1st June
Dublin (O2 Arena) - 2nd June