Madonna Names Miley Cyrus As Guest Curator For Art For Freedom Project
3 April 2014, 12:11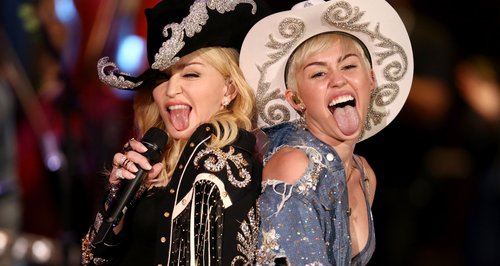 The 'Don't Tell Me' singer will picked out this month's winners alongside 'Adore You' star Miley.
Madonna has announced that Miley Cyrus will join her this month to help curate and select the winners for her Art For Freedom project.
The 'Music' star launched the project in September last year, having been joined by Katy Perry in January, and Miley will be the latest high-profile act to help out the Queen of Pop.
"There has never been a more crucial time to participate and help create change in the world," Madonna said in a statement to announce the news.
"I've been so inspired by people's submissions since we began and I welcome Miley's input along with her fans to express themselves artistically and to share their creative ideas on the subject of human rights and freedom of speech.
"Miley and I look forward to hearing your voices in the format of your choice throughout the month of April and onward.
"Art can speak volumes, I'm glad to join Madonna in encouraging people to have their voices heard," Miley also added. "It's an ideal home to see how each of us can participate in changing the world for the better."
The pair will collaborate on picking out daily featured submissions on the website, with the final winner earning a $10,000 grant.
Miley Cyrus and Madonna performed a memorable duet together earlier this year as part of Miley's MTV Unplugged show.
You may also like: