WATCH: Machine Gun Kelly Collapses Backstage With Chest Pains In The Middle Of A Show
24 April 2017, 11:15 | Updated: 24 April 2017, 11:53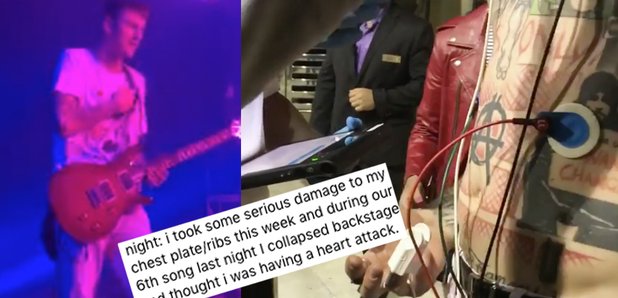 The rapper managed to finish the show despite the medical emergency on his birthday.
Machine Gun Kelly is famed for his raucous live performances, but it looks like even he might have gone a little too hard during his show over the weekend after he ended up collapsing backstage.
The rapper was seen clutching his chest while performing 'Bad Things', even leaving the stage briefly, before he ended up getting hooked up to an ECG backstage amidst worries he was suffering a heart attack. He posted a video of the tests where he can be heard telling the paramedics he wants to finish the show, while they were worried about his heart beating extremely fast.
Thankfully, despite the scary medical emergency, it turned out not to be a problem with his heart but damage to his chest plate and ribs caused by doing his own stunts on the set of his latest movie, Captive State.
still on set. got punched in the chest 65 times. pretty sure i can't breathe. ready for this one to wrap

— Young Gunner (@machinegunkelly) April 21, 2017
He reassured fans with a video of the incident on Instagram, telling them, "For those who saw the TMZ post, here is what happened last night: I took some serious damage to my chest plate/ribs this week and during our 6th song last night I collapsed backstage and thought I was having a heart attack.
"What they didn't report, was that I went back out and finished that show cuz we're f**kin champions and it was my 27th birthday and nothing can take me away from the stage."
Yep, even a suspected heart attack can't keep Kells away from his fans and finishing his show – now THAT'S dedication!