Lorde Was Forced To Apologise For Posting Pic Of A Bath And Whitney Houston Lyrics
6 April 2018, 11:22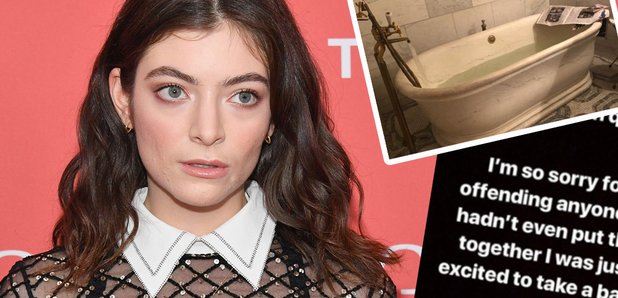 Fans branded her insensitive for her bathtime caption.
You definitely follow at least one person on Instagram who loves to post about bathtime, but when Lorde did it this week she accidentally managed to offend hundreds of her followers with her Whitney Houston reference.
"It's Like Having A Friend With Very Specific Allergies" - Lorde Reveals What It's Like Being Pals With Taylor Swift
Lorde posted a photo of her bath tub on Instagram with the caption "and iii will always love you", in reference to Whitney's iconic song of the same name – but fans were quick to point out that it was insensitive given that Whitney died in the bathtub of a Hollywood hotel in 2012.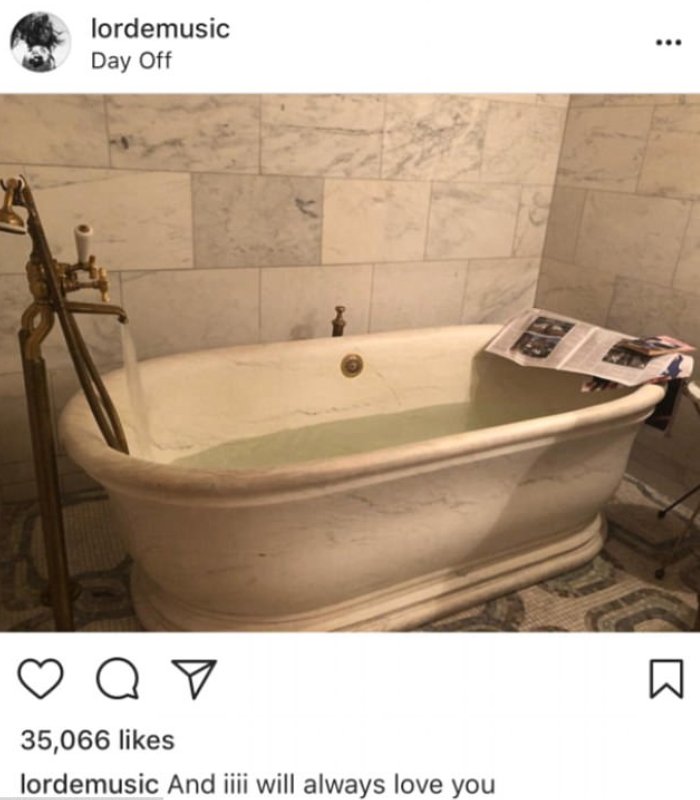 Some fans attacked Lorde for the poor choice of caption and encouraged her to delete the post, which she eventually took down and posted an apology on her story.
This is disgusting idk how people find it funny. Whitney was a legend. she was amazing. she was a queen. she was a strong black woman. I like lorde but this is truly disgusting pic.twitter.com/B5cR3tolaU

— black female (@privsari) April 6, 2018
twitter to lorde after coming for whitney houston pic.twitter.com/QudA2vVnFs

— 1942bs (@REGGllE) April 6, 2018
Y'all. Lorde just made a Whitney Houston bathtub joke. I would say cancel her, but canceled folks just end up being more successful in the long run.

— tyrese sanders (@tysandsnyc) April 6, 2018
Lorde tried it. You don't disrespect Whitney. pic.twitter.com/9kwFrNHTou

— (@blvcksxlk) April 6, 2018
Whitney Houston & her daughter both overdosed in bathtubs. If Lorde truly didn't know then ok but it's not believable.

— E. (@LIBGyal) April 6, 2018
So Lorde, the human sloth, decided to speak ill of the dead, but not just the dead, a dead legend, Whitney Houston? pic.twitter.com/QXrmQ11tCB

— E. (@LIBGyal) April 6, 2018
lorde knows damn well what she was doing posting a picture of a bathtub and captioning it with whitney lyrics

— ً (@ButeraDemetria) April 6, 2018
girl whitney was found in a bathtub delete @lorde

— (@surfboarts) April 6, 2018
Lorde had to have known that by drawing a bath full of water, taking a picture it, and then using one of Whitney's songs as a caption that people would get and suspect that she was being shady. It's quite obvious. Maybe she didn't mean it but still.

— (@MJFinesseLover) April 6, 2018
She wrote, "Extremely, extremely poorly chosen quote. I'm so sorry for offending anyone – I hadn't even put this together, I was just excited to take a bath. I'm an idiot. Love Whitney forever and ever. Sorry again."
Other fans took to Twitter to support Lorde and defend it being an accident:
To all the people saying Lorde is cancelled bc of insta pic of the bath and the Whitney lyrics caption... people do stuff like that ALL THE TIME it was obvs just a very bad coincidence and i genuinely don't think Lorde would do that purposefully...

— Elliott (@ouhoooh) April 6, 2018
Do you REALLY

REALLY

GENUINELY THINK

that Lorde intentionally mocked Whitney's death

REALLY

— sleepy (@Ornithohalloran) April 6, 2018
wait y'all genuinely believe lorde was trying to make a joke about whitney's death? weirdos

— mattie (@sittinonvogue) April 6, 2018
Not Lorde instagramming her bathtab and using Whitney lyrics as caption. I know it's probably unintentional but someone tell her sjsjsjskk

— Lk (@BlueATRL) April 6, 2018
I refuse to believe Lorde would joke about Whitney's death. She had to have posted that without realizing

— x (@xio_1D) April 6, 2018
Accidental it might have been, but we're pretty sure Lorde will definitely not be making that mistake again after the backlash.
Download Our App To Keep Up With All The Latest Celebrity News!