Lily Allen Would Love A Miley Cyrus Collaboration: "I Love That Girl"
26 November 2013, 10:46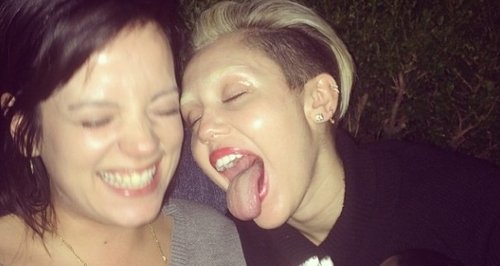 The 'Hard Out Here' singer also says she loves Miley's recent album 'Bangers'.
Lily Allen has revealed she would "welcome" the chance to collaborate with Miley Cyrus in the future, after getting to meet the 'Wrecking Ball' star for the first time last week.
Lily and Miley were pictured hanging out together last week (19th November) out in Los Angeles, and the 'Hard Out Here' singer says she is a big fan of the US star and thinks she is "witty and clever".
"I'd never met her before so I couldn't say we are really great friends but I do really like Miley," Lily revealed to The Mirror this week. "She's funny, witty and clever.
"I love what she does," the 'Not Fair' singer explained. "I think her and Lorde's album have had the most plays in my car this year.
The UK singer-songwriter also clarified rumours her 'Hard Out Here' video was a dig at Miley and her reputation for twerking.
"I never went on record saying the video was a direct pop at her, it wasn't!" Lily confirmed. "Anyone who knows me or follows me on Twitter knows that I love that girl more than anything.
"She's probably way too busy for someone like me, but yeah, I'd welcome the opportunity to work with her," Lily added.
Miley Cyrus is set to kick off her 'Bangerz' world tour in February 2014.