Kanye West Stands By Taylor Swift Stage Invasion At MTV VMAs 2009
5 November 2013, 14:58 | Updated: 5 November 2013, 15:00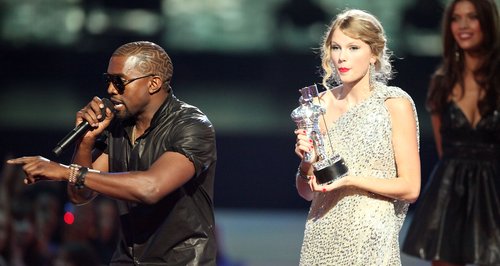 The 'Yeezus' rapper stays Beyonce's music video for 'Single Ladies' still hasn't been bettered.
Kanye West has opened up about his infamous stage invasion at the MTV VMAs 2009, and say he stands by his opinion that Beyonce should have won over Taylor Swift.
The 'All Of The Lights' rapper causes widespread controversy four years ago when he ran on-stage during Taylor Swift' acceptance speech for Best Female Video to say that Beyonce was more deserving of the accolade.
Kanye has now said he still believes Beyonce's video for 'Single Ladies' was, and still is, the best female music video in many years.
"There's a lot of times in life where we're being held back on purpose," Kanye told Amp Radio this week. "The moment people hate me the most for, at the awards show, that was inaccurate.
"Whether it was a plan to give Beyonce the award at the end, we still haven't seen a video as good as that video, like, five years later," Kanye reiterated. "There still hasn't been a video that good."
Last week saw Kanye forced to indefinitely postpone his 'Yeezus' tour after a pivotal piece of touring equipment was damaged in an accident.