"North'll Come To Hospital To Meet Him": Kim Kardashian Talks About Expecting A Baby Boy
25 June 2015, 09:32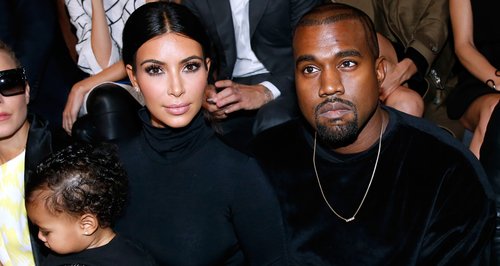 Kim and Kanye West recently revealed the sex of baby number two, and she's spoken out about her "easier" second pregnancy and how North's preparing to be a big sister.
North West is soon to have a little brother and Kim Kardashian has spoken out about how much easier her pregnancy has been this time around and what they are doing for North to help ease her in to big sister duties.
Kim told the Daily Mail that she and Kanye West have been reading books about sisters and brothers to Nori to prepare her, "I don't know if North really understands she's getting a baby brother yet.We read books at night with stories about big sisters, and baby brothers, families. I'm sure she'll come to the hospital and meet him, that's what Kourtney did with her kids so I'll take advice from her."
Kimye revealed the gender of their new baby to the world in an adorable Father's Day message last weekend as Kim posted a ridiculously sweet photo of Kanye kissing North on Instagram, saying how lucky she and North were to have Kanye in their lives:
Kim then later posted another snap of Kanye reading to Nori and dropped the news that their next baby would be a boy - one of each!
Kim also revealed that pregnancy is a lot easier the second time around and that if all goes well, she wouldn't rule out having another baby. "It's definitely a different pregnancy. I really wanted to be pregnant, and it's the anticipation of trying.
"I feel that this is really a miracle because I didn't think it would happen for me because I had a tough delivery that created some complications. So I'm just really grateful to be pregnant, and we're just really happy that so far everything is really healthy, and we're just really excited."
And it looks like Kimye would be keen to expand their ever-growing brood as long as this pregnancy and delivery go well. She explained, "I've always said if I had a boy, I would be done with a boy and a girl. But this pregnancy has been a little bit easier, but I won't really know until later on if I can have another one, it depends on my delivery, so hopefully I'll be able to have another one – I wouldn't mind it."
It's not easy being one half of one of the world's most recognisable couple and Kim Kardashian recently had to speak out against people spreading rumours about her second pregnancy after the announcement sparked some pretty crazy rumours.
Fans claimed that Kim was either pregnant with twins or that she had used a surrogate and fake bump or IVF to get pregnant for a second time. She hit back in an interview with E! about the claims, "It's ridiculous rumours. I can't wait 'til my website's up so I can just say whatever I want, when I want."

Kim also shocked her fans with an explosive outburst on Twitter that lead to the social networking site asking her if she had been hacked. She tweeted:
Please! This is the type of stuff I will address. If I got a surrogate I would say I did! Thankfully I didn't have 2 https://t.co/Nts8xe1TWd

— Kim Kardashian West (@KimKardashian) June 2, 2015
Hahahaha Twitter just contacted me to see if I've been hacked LOL #JustPregnantKeeks

— Kim Kardashian West (@KimKardashian) June 2, 2015
Kim K also spoke out at her first public appearance since the news to reveal that her second pregnancy is a bit more of a struggle but it's all worth it. She told Us Weekly, "To be honest, I've had really bad morning sickness, day sickness, night sickness. I can barely get out of bed.
"It's a very different type of pregnancy from my first one, but I'm so grateful to be pregnant when we didn't even think it was going to happen for us. I don't care how sick I am."
Kim also told Glamour in a new interview, "We are so beyond excited... The waiting and waiting has been a roller coaster. It's been the biggest lesson, and the biggest joy of my life. North has taught me patience. There's nothing I wouldn't do for her and nothing I wouldn't do for my husband. She's empowered us to want to be the best parents and the best spouses."
The news was revealed to the world in a teaser for the second half of the current season of Keeping Up With The Kardashians, where Kim announced to her sister Khloe, "
I just got the blood test back, and I am pregnant."
Kim Kardashian and Kanye West have been very outspoken about how keen they were to expand their brood and the reality star has previously admitted they are "really trying" for baby number two, but Kimye ruled out adoption or surrogacy for the near future as they "still have hope" to conceive naturally after struggling to get pregnant.
Congrats! @KimKardashian reveals she's pregnant with baby number two: http://t.co/DweUvDdkh5 #KUWTK pic.twitter.com/0YfSwqRL86

— Kardashians on E! (@KUWTK) June 1, 2015
The pair have often talked about their longing for a baby brother or sister for North, but have had trouble getting pregnant with their second child.
Kim recently revealed to the Today Show that she hadn't been considering adoption or surrogacy, "I still have hope. They say if you've been trying for a year, then you usually need a little bit of help.
"I had a tough delivery, so I understand what my challenges are. I mean, I'm seeing the best doctors and I'm trying to do everything that I can to make that happen. We're trying to figure out what's going on. They have recommended to me to get a surrogate."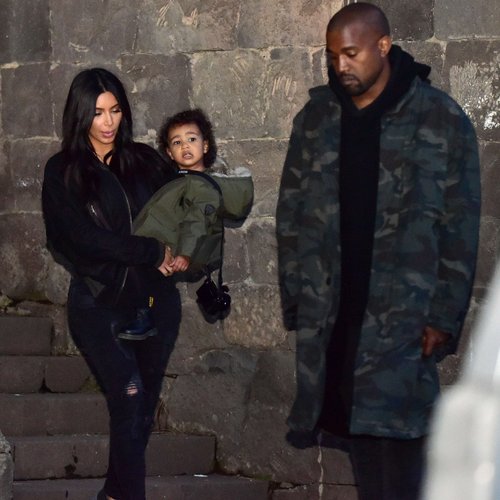 But while Kim admitted she and 'Ye had been trying "500 times a day" (erm, how do you get anything else done, Kimmy?!), they weren't giving up hope. "I would like to hold out a little bit longer, and still try. I still have hope, so I'm just going to keep on trying. Never say never. I mean, we haven't talked about adopting."
And while they said they would love a second child to add to the family, Kimye knew they were blessed with their gorgeous little Nori, "I think you get kind of over it to the point where, I'm so blessed that I have one, and I don't want to take my focus off of her so much."
Kanye also previously opened up to Ellen DeGeneres about the couple's baby plans, "Yeah, we're trying. I just want whatever Kim wants", and back in January Kim told People magazine that they can't wait to have a little brother or sister for North West, "We've really been trying for another kid. More kids can't come soon enough!"
It wasn't the first time the reality star had spoken about her desire to expand her family, telling Entertainment Tonight, "I pray about it."
But it's not all fun and games and RIDICULOUSLY cute outfits being parents to little North. Kim admitted to People, "She took Kanye's phone and put it in the toilet and flushed it!"
And with little North growing up, and eventually reaching an age when she understands her parents crazy life, Kim is worried for the effect the media will have on the tot.
She revealed, "I really just started using the phone with North, but thinking to the future, I hope she's strong enough to handle certain things she'll read."
"I even worry about that for my little sisters all the time, and they're not so little! But when North is old enough I'll probably be a crazy mom, and of course I'll have her password and monitor everything!"
As well as talking about her beautiful little family, Kim also revealed how THAT furkini photoshoot came about. She explained, "We were in Utah with eight couples for my best friend's birthday. We went into this fur store and there was a fur bikini and boots."
"I was like, 'I just have to get this, but I don't know when I'm ever going to wear it!' And then Kanye was like, 'Let's do a shoot in the snow!' It was so fun."
Probably a bit on the chilly side too, we'd expect!