Kanye West Says Kim Kardashian Is More Influential Than Michelle Obama
31 October 2013, 09:20
The 'Yeezus' star defends his fiancé and talks about her Instagram shots.
Kanye West has claimed that his fiancé Kim Kardashian is more influential than First Lady Michelle Obama.
The 'Jesus Walks' star told Ryan Seacrest that his partner is the most intriguing woman in the world and deserves to be on the cover of the best magazines.
"There's no way Kim Kardashian shouldn't be on the cover of Vogue," he said. "She's like the most intriguing woman right now. She's got Barbara Walters calling her like everyday."
Kanye also made reference to the recent bikini Instagram picture of Kim that went viral recently.
"No one is looking at what [Barack Obama] is wearing. Michelle Obama cannot Instagram a [bikini] pic like what my girl Instagrammed the other day," he added.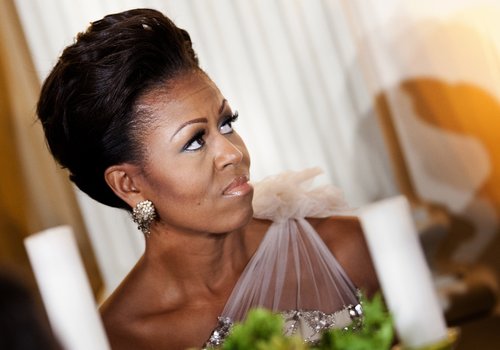 Kim has famously been snubbed by Vogue editor Anna Wintour with Michelle gracing two covers over the years.
Meanwhile, Kanye has come under fire from fans once again this week after postponing another gig on his 'Yeezus' tour in Anaheim.