Kim Kardashian Knocked Over As She And Kanye West Get Mobbed
26 September 2014, 11:19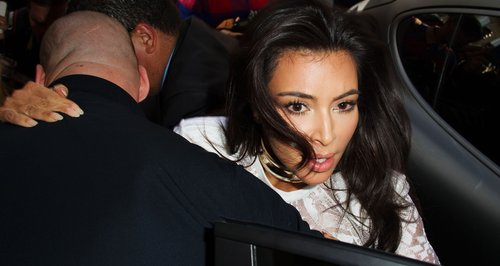 Kim Kardashian and Kanye West were caught in a scary scrum as they headed to the Balmain show at Paris Fashion Week
It's not all glitz and glam being a celebrity, as Kim Kardashian and Kanye West recently demonstrated – the couple got mobbed as they attended the Balmain show at Paris Fashion Week last night.
The scary scenes happened as Kimye's car was totally surrounded by paparazzi and fans as they arrived to the fashion show, and Kim got shoved by Vitali Sediuk.
Vitali is a former Ukrainian journalist who is famous for accosting the stars – most recently lunging at Brad Pitt at the Maleficent premiere in Los Angeles earlier this year.
Vitali was in the crowd as Kim left her car and reportedly pulled her hair (which he denies) as she got violently shoved to her car while Kris Jenner and Kanye were powerless to get to her through the crowd.
A source close to Vitali told the DailyMail, "The information about Vitalii pulling Kim's hair is untrue. Vitalii hugged Kim and that caused a big crowding with the security that pulled him down to the ground. Because of the mess, Kim may have lost her balance , But Vitalii didn't mean any harm."
Security was quick to jump in and escort Kim in to the building and to Kanye, although the crush of journalists and paparazzi carried on inside the venue.
We hope you're OK now, Kimmy!
You May Also Like…