Kim Kardashian Posts New Picture Of Engagement Ring As She Breaks Silence On Proposal
23 October 2013, 09:25
The reality star agreed to marry Kanye West this week and shared her news with the world on Instagram.
Kim Kardashian has posted a new picture of her engagement ring on Instagram as she confirms she is set to marry Kanye West.
The couple kept silent on the rumours Kanye had popped the question, with Kim's mother Kris Jenner the only one confirming the news during an interview with E! News.
Taking to her social media accounts, the reality star simply wrote: "YES!!."
The accompanying picture featured her hand in the foreground and the scoreboard of the AT&T baseball stadium with the question: "PLEEEASE MARRY MEEEE!!"
Check out the new picture of the engagement ring below: (Picture: Instagram)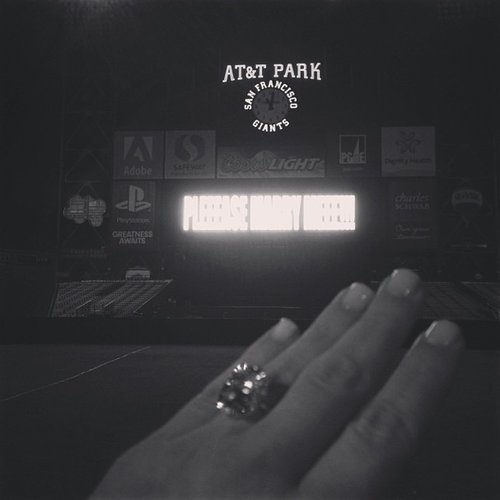 The proposal featured the couple's close family and friends with Lana Del Rey's 'Young And Beautiful' being played by a 50-piece orchestra.
The couple have been dating since early 2012 and welcomed baby girl North earlier this year.