Kanye West Shares First Picture Of Baby North During Appearance On Kris Jenner Show
22 August 2013, 08:54
The 'Jesus Walks' rapper's child with Kim Kardashian was revealed to audience members earlier in the week.
Kanye West shared the first picture of his baby daughter North during his taped appearance on Kim Kardashian's mother Kris Jenner's chat show this week.
The programme will not air until tomorrow (23rd August), but fans in the audience have been taking to Twitter to reveal details of the couple's first child upon seeing the snap.
One actress called Janelia P apparently tweeted the details, saying: "Just left the @KrisJennerShow and @kanyewest was there today! He was so open and blessed us with baby North's photo."
After facing a barrage of questions from fans for more details, she added: "She looks like kanye she has his cheeks and she is almost as dark as him and she has big eyes like Kim... toocute."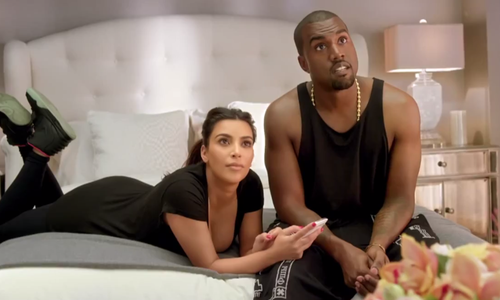 "The baby looks like Kanye with Kim's eyes."
Kanye and Kim welcomed their first child earlier this year and recently made their first public appearance as a family.
Meanwhile, Kanye will be heading to the MTV VMAs 2013 this weekend to perform his latest single 'Black Skinhead'.