Kanye West And Jimmy Kimmel To Address Twitter Feud Live On Air Tonight
9 October 2013, 10:32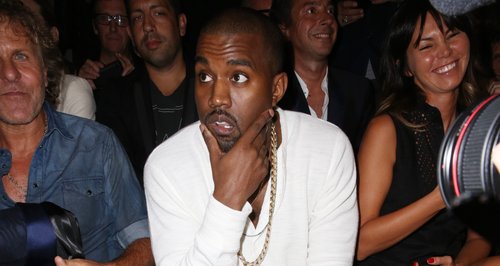 The 'Yeezus' star will appear on Jimmy Kimmel Live two weeks after the pair's Twitter fall out.
Kanye West and Jimmy Kimmel are set to address their recent war of words live on the US television star's chat show this evening (9th October).
The 'All Of The Lights' rapper and popular chat show host Jimmy had a Twitter spat back in late September after Kanye took offence to one of Jimmy's sketches about him.
Jimmy Kimmel has now confirmed that Kanye will indeed be a guest on Jimmy Kimmel Live! later this evening, and joked that he is expecting a bit of a "potentially uncomfortable" interview between the pair.
"Kanye and I had a disagreement a couple of weeks ago and it got a little bit out of hand," Jimmy revealed to viewers last night. "Tomorrow night, we will sit down and discuss it like normal people do, on television.'
The show this evening will also feature a performance from Arctic Monkeys.
Kanye West is set to kick off his new 'Yeezus' tour later this month, his first solo tour in five years, beginning with a show in Seattle on 19th October.