Kanye West Fans Attempt To Counteract Taylor Swift's Album Launch By Creating 'Hey Mama' Day
31 August 2017, 15:36
Taylor's new album is being released on the anniversary of the death of Kanye's mum.
Ever since Kanye stepped onto the stage at the VMAs back in 2009, there has been headline after headline written about his ongoing feud with Taylor Swift.
Last year even saw Kanye's wife Kim Kardashian become embroiled in the drama and it's all erupted once again following the release of Taylor's new music.
> There's Something Very Significant About The Diamonds In Taylor Swift's New Video
Many people think there are loads of shady references in Tay's new song 'Look What You Made Me Do', particularly in the music video for the track.
But one thing that's driven Kanye fans wild is the fact that Taylor's forthcoming album 'Reputation' is set to be released on 10th November - the same day that Kanye's mum Donda West passed away.
Kanye was famously close to his mum and he's referenced her in a number of songs over the years, so her death from heart disease back in 2007 hit him really hard.

Pic: Getty
Many Kanye fans think the fact that Taylor is releasing her album on this date is a subtle low blow aimed at the rapper and have decided to hit back themselves on behalf of the 'Jesus Walks' star.
Their plan is to get Kanye's Donda West-inspired track 'Hey Mama', taken from his second album 'Late Registration', to the top of the charts on 10th November.
A playlist has already been set up on Spotify which includes the song on repeat 500 times, so all Kanye fans are reportedly being encouraged to stream it as much as possible.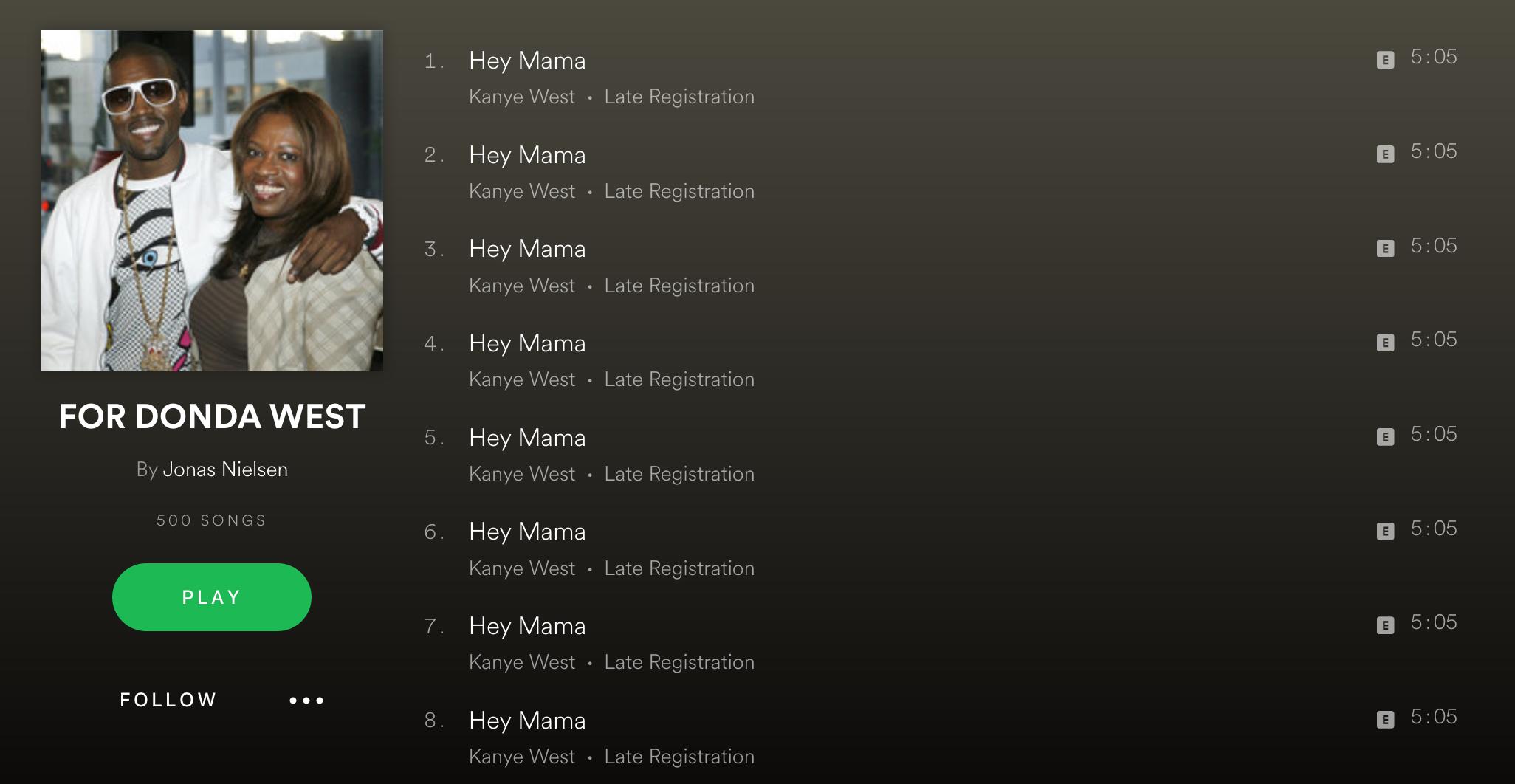 The whole thing is being dubbed 'Hey Mama Day' and it's not the first time fans have attempted to do something like this and influence the charts.
Fans famously campaigned to get Stormzy's 'Shut Up' to the Christmas number one spot back in 2015 - this followed the success of fans who managed to get Rage Against The Machine's 'Killing In The Name' to the top of the charts at Christmas 2009.

Pic: Getty
With Taylor currently dominating the Vodafone Big Top 40, it's difficult to see how anyone will be able to match her success when 'Reputation' is eventually released - but it seems like Kanye fans will still give it a go.
Whilst you're here, check out Taylor Swift's first EVER Instagram story...
Dive into the Capital app now for all the latest news about Taylor's forthcoming new album and check out some of the biggest hits around whilst you're there!