Kanye West Rants About Only Receiving Two Grammy 2014 Nominations – Video
12 December 2013, 09:46 | Updated: 12 December 2013, 09:55
Watch the 'Jesus Walks' rapper speak to fans at a concert in Arizona this past week.
Kanye West has hit out at the US Recording Artist officials after only getting two nominations for the Grammy Awards 2014.
The 'Black Slaves' star has been shortlisted for the Best Rap Song and Best Rap Album prizes but told his audience in Arizona this week that he was a little upset.
"I'm 36 years old and I have 21 Grammys. That's the most Grammys of any 36-year-old," he started. "Out of all of those 21 Grammys, I've never won a Grammy against a white artist.
"So when the Grammy nominations come out, and 'Yeezus' is the top one or two album on every single list (poll of the year), but only gets two nominations from the Grammys, what are they trying to say? Do they think that I wouldn't notice?"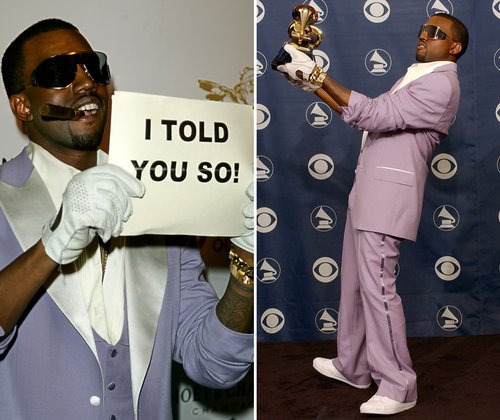 He also hit out at the Academy and threatened to "completely diminish all of their credibility at this moment?"
He then turned the air blue when he spoke of how annoyed he's been with people coming up to congratulate him.
"People come to me and congratulate me on those two nominations. F*** those nominations," he exclaimed. "I would rather have no nominations."
The Grammys 2014 saw Jay-Z lead the pack with a total of nine nods and Macklemore & Ryan Lewis, Kendrick Lamar and Justin Timberlake all scooping seven.
One of Justin's producers recently took to his own Twitter account to reveal how upset he was that 'The 20/20 Experience' failed to get a nod in the Album Of The Year category.