Fans Donate $3500 So Far To Get Millionaire Rapper Kanye West Out Of Debt. Yes, Really.
18 February 2016, 14:00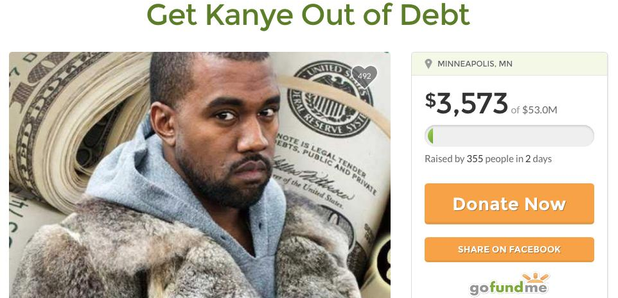 Yes, people are paying ACTUAL MONEY into a fund set up to clear Kanye's $53million debt. You literally couldn't make it up.
In a week that's been full of mad Kanye West news, we reckon we've found the maddest of the lot – fans are donating ACTUAL MONEY to help Kanye get out of his $53million debt.
Yes, that is the same Kanye West who owns a $20million house, multiple diamond chains, expensive cars and charges upwards of $2000 for pieces in his Yeezy clothing collection.
One fan has set up a GoFundMe account where fans can help Kanye out of his plight by pledging a couple of quid towards the cause – and so far they've collected $3573 – so it's safe to say there's still quite a way to go until they hit the $53mill mark.
The page appeals to fans saying, "Kanye West, prolific entertainer/fashion icon/celebrity/member of the Kardashian family needs our help!
"Recently, Kanye let us in on his personal struggle. He is 53 million dollars in debt and it doesn't look like he's going to get Mark Zuckerberg's help that he desperately needs. We must open our hearts and wallets for Kanye today. Sure he is personally rich and can buy furs and houses for his family, but without our help, the true genius of Kanye West can't be realized.
"As Kanye West has told us time and time again he is the 'greatest living artist and greatest artist of all time'. Great artists need to be supported financially to achieve their full potential.
"To quote Mr. West, 'I am Warhol. I am the number one most impactful artist of our generation. I am Shakespeare in the flesh. Walt Disney. Nike. Google. Now who's gonna be the Medici family and stand up and let me create more!' WE MUST BE THE MEDICI FAMILY TO KANYE. GoFundMe, let us unite!"
Well, we never thought we'd see the day.