This Girl's Tattoo Just Made Kanye West Cry On Stage During A Live Show
20 September 2016, 10:56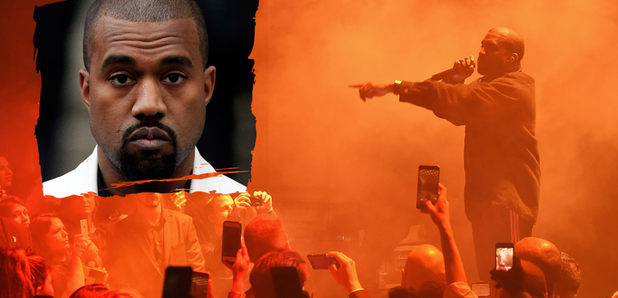 It's a moment this Kanye fan will never forget...
Kanye West is an artist who divides opinions.
Many people love him for his creative genius and forward thinking sounds.
But he also has his haters who feel he's too arrogant.
Well fans and haters alike must agree this on stage moment is pretty amazing!
Whilst performing a show in Miami as part of his Saint Pablo tour, Yeezy spotted a girl in the crowd who had a tattoo inspired by his 'My Beautiful Dark Twisted Fantasy' album.
The girl, named Krystal, was also wearing an 'RIP Donda' t shirt in honour of Kanye's late mother.
After Ye spotted her, he stopped the show in order to sing to Krystal.
Check out the video below...
KANYE CALLED OUT A FAN WHO BROUGHT HIM TO TEARS. #SaintPabloTour @TeamKanyeDaily pic.twitter.com/eMU4aShuoz

— Chris Allmeid (@Chrisallmeid) September 18, 2016
Whilst on stage, Kanye said, "The girl with the 'In loving memory of' and the 'Runaway' tattoo, you literally brought tears to my eyes."
He then proceeded to sing Krystal's name in a really touching moment.
Krystal was obviously overwhelmed by the shout-out from her idol and cried as she was serenaded.
However she later took to Twitter to share the news and revel in her new found fame...
"Girl with the runaway tattoo" pic.twitter.com/ypokCURJCw

— Krystal (@fleezuskryst) September 18, 2016
Kanye really sang to me dawg

— Krystal (@fleezuskryst) September 18, 2016
Speaking to MTV about how she felt, Krystal said, "Overwhelmed. When I listen to his music, I literally feel it."
"So to hear him see me. It was very emotional. And to know that everyone around me felt emotional too. There was love in the room."
Just by watching the video you can feel the love in the room.
It literally gave us ALL the feels!
You may also like...