We Finally Know Why Harry Styles Was Randomly Spotted Holding A Chicken In The Street
5 March 2018, 15:03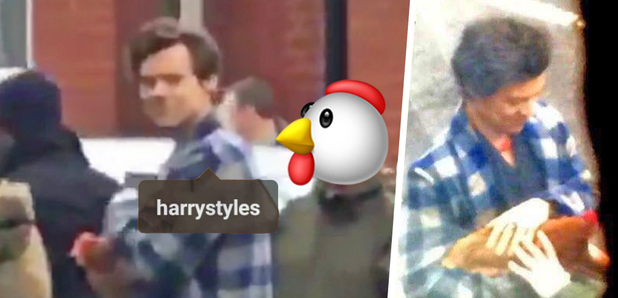 Standing on a street corner in St Albans, Harry Styles managed to turn something as basic as holding a chicken into an iconic masterpiece.
Why was Harry Styles standing in the street holding a corner? It's a question we never thought we'd be asking ourselves, but it's one we found ourselves asking after pictures emerged of the 1D lad in St Albans recently.
Hazza wasn't just wandering down the street with his poultry in hand for no reason though and it turns out the whole thing was part of his first modelling campaign for Gucci!
> We Took A Close Look At Harry Styles & Cole Sprouse: The Fashion Icon & The New Kid On The Block
The famous Italian fashion brand took to Instagram to announce the campaign and shared a snap of Harry's unmistakable hand stroking a dog alongside the caption 'Hand and hound: peeking on set with @harrystyles for the new #GucciTailoring campaign. #AlessandroMichele'.
But it was the fan-taken pics and videos of the 'Sign Of The Times' singer clutching a live chicken that really caught people's attention and fans took to Twitter in their thousands to revel in the moment.
Shout out to all the hilarious people posting these incredible reactions to Harry's chicken...

WHEN A CHICKEN ALREADY MET HARRY STYLES AND YOU NOT.......#HarryStyles pic.twitter.com/Rb2cJIFqGo

— S Loves Harry (@SagaAhmed12) March 4, 2018
Imagine reading this chicken's resume: Worked with Harry Styles. pic.twitter.com/8fUYhvzU3z

— ~Miss V~ (@StylesxRowland) March 4, 2018
I SWEAR I CAN HEAR HARRY'S VOICE IN MY HEAD TALKING TO THE CHICKEN LIKE:

"HELLO CHICKEN I'M STYLES,..HARRY STYLES"
"AREN'T YOU EXCITED CAUSE I'M"
XDDD pic.twitter.com/chSjJwEH0B

— Leena ∞◟̽◞̽ (@AIMHlwt_28) March 4, 2018
In the next hour there's gonna be "harry styles' chicken" acc on twitter

— SOUDE (@iamHalseylinson) March 4, 2018
Chicken: dude I met Harry styles!
Dog: girl same I met him too!
Chicken: Harry styles held me in his arms can you relate?
Dog: Harry styles cuddled my hair with his hand full of rings can YOU Relate?
Chicken: I'm his favourite get out
Dog: nah you get out I'm his fav pic.twitter.com/IzDuPfDdLe

— tiny louis (@Believe_In_LH) March 4, 2018
bet the chicken went home like "y'all guess who was held by harry styles today" pic.twitter.com/B7Eqr983rn

— jenny (@kissmeyoufoolLS) March 4, 2018
So far there's been no explanation as to why Harry's Gucci campaign includes a dog and a chicken outside a Fish & Chip shop, but given its already legendary status, we're going with it.

We'd be happy to just catch a glimpse of Harry in the street wearing a plastic bag, but holding a chicken in a shoot for Gucci? - too damn good.
> Download Our Fancy New App For All The Latest Harry Styles News!
Talking of Harry Styles and animals, remember the time he played 'Dogs In Sunglasses'???