Coldplay's Chris Martin Auctions Guitar To Aid Victims Of Hurricane Sandy
27 March 2013, 14:10
The 'Paradise' star will put one of his instruments used on the band's hugely successful 'Mylo Xyloto' tour.
Chris Martin is to auction off a guitar he used during Coldplay's 2012 'Mylo Xyloto' world tour in order to raise money for victims of Hurricane Sandy.
The instrument was used by the band's frontman during their performance of 'God Put A Smile Upon Your Face' on the outing and has been described as "one of a kind".
The listing of the item reads: "The guitar tech had to put the guitar back together after each show, making this guitar completely unique."
The guitar was put on celebrity auction site CharityBuzz.com and is currently fetching bids of $10,000.
Chris has been a keen supporter of the campaign – which helps to bring aid to those who fell victim to the super storm that hit the East coast of America in October 2012.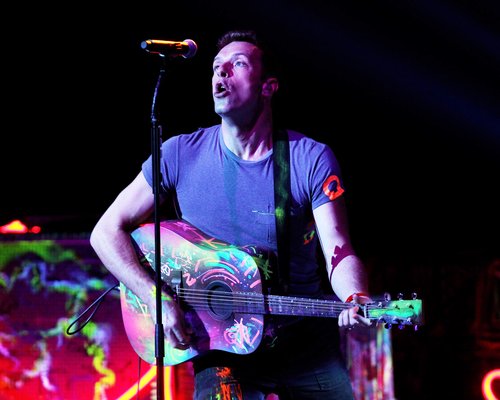 The 'Charlie Brown' star was among a host of performers who took to the stage for the special 12-12-12 concert in New York last year.
Coldplay also auctioned off the original artwork to their latest album at the end of the year to raise funds for Kids Company.