The Chainsmokers & Coldplay Just Debuted Their EPIC Collaboration At The BRITs!
22 February 2017, 22:18 | Updated: 5 December 2018, 11:09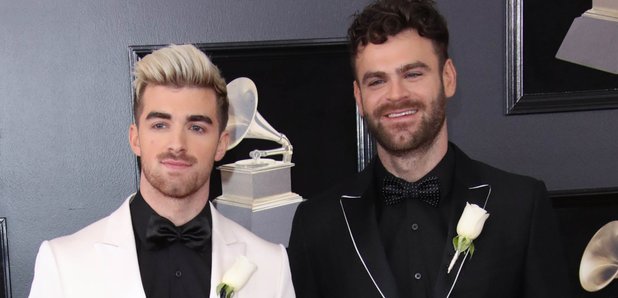 Chris & co. have teamed up with Drew & Alex for what is sure to be one of the summer's biggest smashes!
Update: 21:17 22nd February 2017
We called it! Our crystal balls might not have predicted all the night's winners, but we did have an inkling The Chainsmokers and Coldplay were up to something - and we were right!
Dreams Do Come True. The Chainsmokers & @coldplay!!!!! https://t.co/4qef7muxEw pic.twitter.com/Cpu4xtzdJw

— THE CHAINSMOKERS (@TheChainsmokers) February 22, 2017
'Something Just Like This' was definitely a highlight of the BRIT Awards 2017 - and it's available to download and stream right now!
Listen on: Apple Music | Spotify
Original article from 10:46am on 22nd February 2017 follows.
Ok, so we're putting 2 and 2 together here, so forgive us is we get 5... but we have an inkling that Coldplay might be debuting their new collaboration with The Chainsmokers at the BRIT Awards tonight (22nd February)!
The British pop-rock legends were confirmed as performers at the show in London this morning, but there was no clue as to what they'd be performing. It could be their hit 'Hymn For The Weekend', which is nominated for British Artist Video Of the Year, or it might be something which was accidentally leaked today! *crosses fingers*
> BRIT Awards 2017: Full Nominations List
> BRIT Awards 2017: Confirmed Performers Inc. Bruno Mars, Katy Perry, Little Mix & Ed Sheeran!
(Spotify)
If you happened to log into Spotify on your computer this morning, you might have noticed someone made a bit of a boo-boo - and revealed a surprise collaboration between The Chainsmokers and Coldplay!
If you click the banner, you only end up at The Chainsmokers' profile, so you can't actually hear the track - but we can confirm it's called 'Something Just Like This', and will probably be released this #NewMusicFriday - 24th February.
Hit play on the teasers above and tell us that you're not hyped... go on, we dare you!
Roman Kemp is bringing you The Capital Evening Show LIVE from backstage at the BRIT Awards tonight from 7pm - find out how to listen to and watch the whole show for free online!
You May Also Like...