WATCH: Nicki Minaj Wasn't The First Person To Get One Of Cardi B's Shoes Thrown At Her Head
10 September 2018, 11:52 | Updated: 10 September 2018, 12:12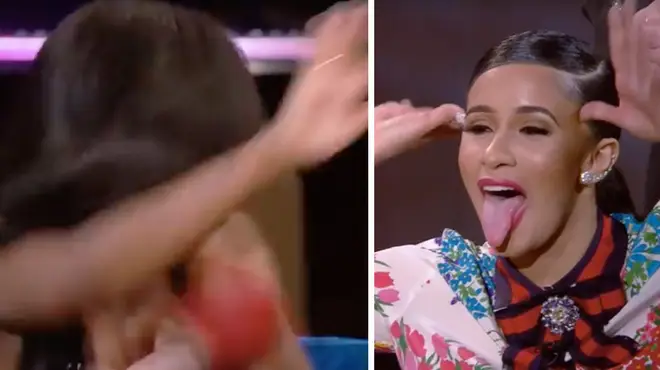 Cardi B threw one of her shoes at her Love & Hip Hop co-star last year.
One of the most shocking moments from the past weekend was without doubt when Cardi B and Nicki Minaj got into a physical fight at the NYFW Harper's Bazaar party… but it turns out that wasn't the first time Cardi had thrown one of her shoes at an opponent.
WATCH: Nicki Minaj And Cardi B Seemingly Fight In Surfaced Video
Footage has re-emerged of the Love & Hip Hop reunion from last year – the show Cardi rose to fame on – where another cast member, Asia, tried to explain why she didn't like Cardi, and the 'Bodak Yellow' singer whipped off her shoe and threw it at her.
It's safe to say the sound of the shoe impacting on her nemesis' chest is pretty sickening, and a huge melee broke out after she threw her red shoe.
This weekend, similar scenes occurred during a NYFW party when Cardi and Nicki got into a fight and the singer threw a red shoe at Nicki, but it was Cardi who got hurt in the scuffle as she was photographed with a huge bump above her left eye.
While TMZ claims neither Nicki nor Cardi will file a police report, this kind of behaviour could obviously have serious consequences given how sharp a stiletto heel can be. Here's hoping we won't see Cardi throwing any more shoes in future.
> Download Our App And We'll Keep You In The Loop With Your Fave Stars!