LISTEN: After Being Voted Worst Dressed 2016, Anne-Marie Vows To Dress Even Worse For The #CapitalSTB!
6 June 2017, 08:10 | Updated: 1 May 2018, 08:07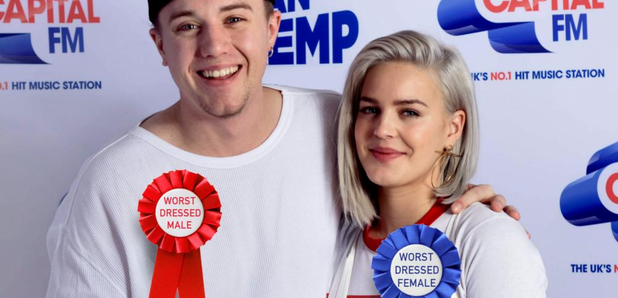 We're both excited to see what she comes up with, and really, really, REALLY nervous.
We ended 2016 with some of the world's biggest artists performing some of the world's biggest songs. How could you forget that? Another thing we can't forget was when Anne-Marie and Roman Kemp were voted the worst dressed people of 2016.
Don't get us wrong - we're STILL trying to forget it.
> Anne-Marie's Making Her Summertime Ball Debut – & She's Told Us What She Wants On Her Rider!
While we were quite keen on her tartan leggings and grey, furry shrug, some - ahem - news outlets weren't so much. At least the 'Alarm' singer clearly wasn't bothered by it. She definitely wasn't bringing it up six months later. Totally. Not. At. All.
She stopped by to chat to Roman Kemp about her upcoming performance for #CapitalSTB, and said that while she was pretty excited to be up there belting 'Ciao Adios' and 'Rockabye', she was more excited to out-do herself on the dodgy wardrobe game.
"We're gonna have to step it up a little bit; dress even worse" warned Anne-Marie, as she spoke to #CapitalBreakfastWithRomanKemp. You've been warned.
If we don't see some feather boas, glow-in-the-dark platform boots, and a denim jacket with Ro's face in LEDs imprinted on the back, we'll be disappointed, AM.
> You Do Not Wanna Miss A Second Of The #CapitalSTB, So Make Sure You Download Our App Right Now!
And if you thought her outfit choice was odd, wait until you see what farmyard animal she's getting on her #CapitalSTB rider...