Volunteers Needed For Yorkshire Cycle Race
27 November 2018, 10:20 | Updated: 27 November 2018, 11:44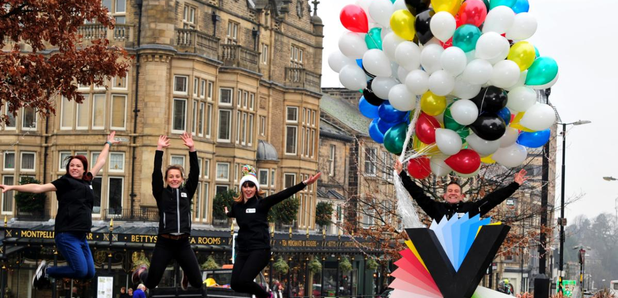 The search is on for thousands of volunteers to help out at one of the biggest cycling races in the world, when it comes to Yorkshire next year.
The countdown is on until the start of the Yorkshire 2019 UCI Road World Championships, which begin in 300 days time.
2000 volunteers are now being recruited to help out during the race.
The people behind the race are in Harrogate this morning, so people can sign up to become Yorkshire Champions, they are the band of volunteers who will help with the smooth running of the Championships and ensure all cycling fans who come to Yorkshire are given a warm welcome.
The race will cover all parts of Yorkshire between the 21st and 29th September 2019.
Harrogate will serve as the destination town for every race, with start locations across the county to ensure the Championships reach as many people as possible.
The full race programme is as follows:
Day 1: Saturday 21 September: Beverley-Tadcaster-Wetherby-Harrogate Circuit – Para-cycling Road Races (C1 Event)
Day 2: Sunday 22 September: Harrogate Circuit – Team Time Trial Mixed Relay – 28km (two circuits)
Day 3: Monday 23 September: Harrogate Circuit – Women Junior Individual Time Trial – 14km (one circuit) and Men Junior Individual Time Trial - 28km (two circuits)
Day 4: Tuesday 24 September: Ripon to Harrogate – Men Under 23 Individual Time Trial – 32.5km (route plus one circuit) and Women Elite Individual Time Trial – 32.5km (route plus one circuit)
Day 5: Wednesday 25 September: Northallerton to Harrogate – Men Elite Individual Time Trial - 54km (route only)
Day 6: Thursday 26 September: Richmond to Harrogate – Men Junior Road Race – 144.5km (route plus three circuits)
Day 7: Friday 27 September: Doncaster to Harrogate – Women Junior Road Race – 91.5km (route only) and Men Under 23 Road Race – 192.5km (route plus three circuits)
Day 8: Saturday 28 September: Bradford to Harrogate – Women Elite Road Race – 149.5km (route plus three circuits)
Day 9: Sunday 29 September: Leeds to Harrogate – Men Elite Road Race – 284.5km (route plus seven circuits)