Thirteen People Given Jail Sentences For Leeds 'Ride OUt'
11 July 2017, 13:19 | Updated: 11 July 2017, 13:23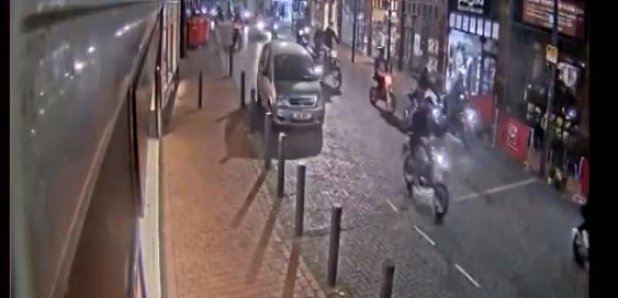 Thirteen people have been jailed for a total of nearly 15 years at court today for offences relating to the Halloween 'ride out' in Leeds.
A large number of motorbikes congregated and were ridden dangerously and anti-socially through the city centre on October 31st last year.
The twelve men and a woman were sentenced at Leeds Crown Court after earlier pleading guilty to causing a public nuisance.
They were arrested as part of Operation Dice, an investigation led by Leeds District CID, following the incident where motorbikes and quad bikes congregated in Kirkstall Road before a large number were ridden through the city centre en masse, including through pedestrian areas and shopping arcades.
The investigation included detailed and painstaking analysis of CCTV from a range of sources to identify the suspects and their vehicles and illustrate their involvement on the night. Public appeals for information and extensive enquiries, including social media, also supported the investigation.
A series of early morning raids at addresses across Leeds in December last year resulted in the arrests of the main suspects and saw a number of motorbikes seized.
The incident also saw Leeds City Council secure a landmark injunction, under Section 1 of the Anti-Social Behaviour, Crime and Policing Act 2014, which bans anyone from participating in anti-social driving of motor vehicles, including motorbikes and quad bikes, involving two or more motor vehicles in any public place in the Leeds district. The full order, which carries a power of arrest, was granted for five years at Leeds County Court in January.
The order also forbids people from promoting, organising or publicising the anti-social driving of motor vehicles.
Proactive policing operations were put in place to stop two similar potential 'ride out' events planned for Leeds on December 11 and New Year's Eve.
Pre-emptive visits were made to those identified as being involved in the organisation of the events to highlight the existing county court injunction and other officers were also deployed to prevent any build-up of vehicles at key locations on those dates.

CCTV Footage Of Leeds 'Ride Out'

At today's hearing the defendants were each jailed for a minimum of 12 months;
* David Armitage, aged 26, of Brookfield Road, Headingley was jailed for two years;
* Jamie Ayres, aged 26, of Lupton Avenue, Burmantofts was jailed for 12 months;

* Omar Ahmed, aged 24, of Stonegate View, Meanwood was jailed for 12 months;

* Ashley Benson, aged 25, of Whingate Road, Armley was jailed for 12 months;

* Michael Clough, aged 27, of Torre View, Burmantofts was jailed for 14 months;

* Ben Colley, aged 26, of Butterbowl Road, Farnley was jailed for 14 months;

* Dean Fawcett, aged 28, of Intake View, Middleton was jailed for 12 months;

* Nicholas Flaherty, aged 29, of Prospect Street, Farsley was jailed for 18 months;

* Rachel Taylor, aged 29, of Nowell Lane, Harehills was jailed for 12 months;

* Joshua Hawley, aged 22, of Mead Grove, Colton was jailed for 12 months;

* Dylan Lockwood, aged 23, of Torre Grove, Burmantofts was jailed for 12 months;

* Adam Nicholson, aged 26, of Henley Terrace, Bramley was jailed for 12 months;

* Anton Rojas, aged 26, of Skelton Avenue, Burmantofts was jailed for 12 months.
Ben Colley was also convicted of driving while disqualified and without insurance. Nicholas Flaherty was also convicted of perverting the course of justice.