Steve Evans Unveiled As New Leeds Boss
20 October 2015, 14:31 | Updated: 30 March 2016, 13:50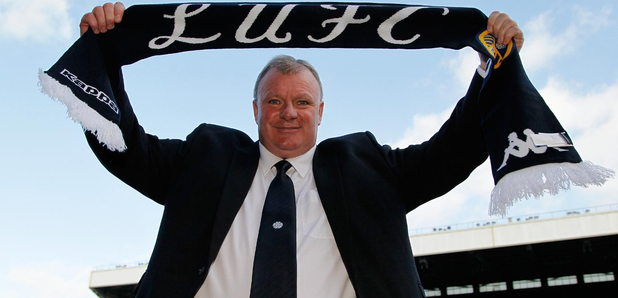 Steve Evans has been officially unveiled as the new manager of Leeds United.
The 52-year-old Scot has been given a rolling contract, taking over from Uwe Rosler who was sacked by Massimo Cellino over the weekend.
It proved to be Cellino's final act in charge before he was banned by the Football League for a second time in under 12 months owing to a tax offence in his native Italy.
It represented another chaotic chapter in Leeds' seemingly never-ending story of carnage, but Evans - who left Rotherham last month - could talk only of positives at his unveiling.
"It's overwhelming for me,'' he said. "I didn't know that an iPhone could take the 840 messages I received yesterday.
"My message to the supporters is, give me an opportunity. Many a better man and manager has sat here and asked for that. Am I cautious, nervous, excited? Yes. It's Christmas, baby's being born, your wedding day and your first date all rolled into one.
"Mr Cellino wanted me because of my track record and success. Does that warrant me Leeds United? It's a massive club and I'm not an ex-Premier League manager who can sit here and say it means nothing to me.
"I walked through the city last night and Leeds fans came up to me and shook my hand and chanted my name.''
Although he is appealing the decision which was announced on Monday, Cellino is unlikely to be Evans' point of contact at Elland Road.
Evans was keen to point out head of recruitment Martyn Glover would be his go-to man, but said the decision to ban Cellino - had he known about it - would have had no bearing on his decision.
"There are some big clubs in the Championship but there's only one biggest,'' he said. ``We could do a straw poll from here to China and they'd tell you that.
"I've just caught up with Mr Cellino in the last 15 minutes; I didn't get into it (the ban). I'm here to concentrate on what happens on the grass, keep your focus there, as a famous manager said to me.
"When Leeds United called, I could have been anywhere in the world and I'd have travelled to Leeds.''
Evans' immediate priority is boosting Leeds' anaemic form - one of the key factors behind Rosler's departure. Cellino compared his style of football to "country music'' and has prescribed "heavy rock''.
Evans said he ``likes a bit of jazz'' but vowed to give the position his all, adding: "Steve Evans doesn't lie in bed and dream.''