Moorland Fire Near Bingley
9 July 2018, 11:43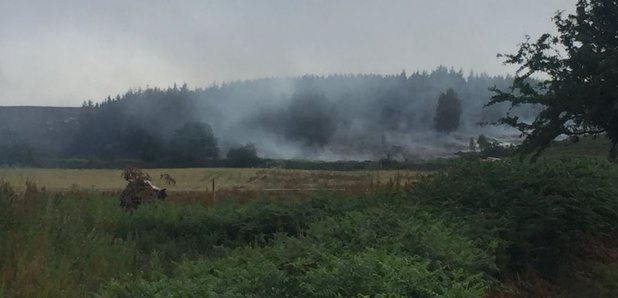 More than 50 firefighters have been tackling a large moor fire near Bingley in West Yorkshire.
12 fire engines were called to the scene of the fire on Catstones Moor near Cullingworth.
A spokesman said: "Appliances from across the area are in attendance, with over 50 firefighters dealing with the incident under extreme heat conditions."
He said a police helicopter was helping the firefighters by identifying hotspots on the moor.
The fire was reported on Sunday just after 3pm.
Nearby residents have been advised to keep their doors and windows closed.
Air passengers reported on social media being able to see the smoke from the moor fire as they approached Leeds Bradford Airport.
Fire crews are now extinguishing pockets of fire as they flare up. But they are being helped by cooler conditions and less wind.
The fire follows the huge fire on Saddleworth Moor, which saw troops being brought-in to help firefighters, and another massive moor fire at Winter Hill, near Bolton.