"It's coming home. But it's coming home to Otley"
29 November 2018, 12:38 | Updated: 30 November 2018, 11:27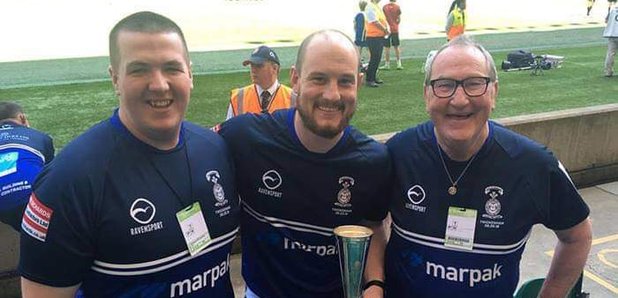 Three rugby coaches from Otley in West Yorkshire, have beaten Gareth Southgate to a top coaching award.
Kris Stafford, Stephen Quinn and Harrison Marshall of Old Otliensians RUFC, were nominated in the Coaching Moment of the Year Award, at the UK Coaching Awards 2018.
It's after they helped their club win the Junior Vase trophy this year.
And they were up against two formidable opponents.
First up, Gareth Southgate. The England football manager, who coached the Three Lions to their first World Cup semi-final since 1990.
And secondly Tracey Neville MBE. The England netball coach who took the team to victory in the Commonwealth Games this year.
The award honours great coaching from people and organisations who've shown outstanding success.
This is what UK Coaching has to say about our Otley coaches:
Kris, Stephen and Harrison - head coach, forwards coach and assistant coach and analyst respectively - of Old Otliensians RUFC masterminded their club's most historic day.
The 'ensians took on South Molton in the 2018 RFU Junior Vase final at Twickenham in May, beating them 32-21 to take the trophy for the first time, and the plaudits of the Otley community.
They received a heroes' welcome back in West Yorkshire, making an open-top bus tour through the town after a season in which they also achieved promotion. The grass-roots club is a cornerstone in the local community and is helped by lots of volunteers who give up their time to make sure the club succeeds. The hard work and passion of the coaches certainly rubbed off onto the players that fateful May day.
Last night they scooped the award, at a glittering ceremony in London.
Harrison Marsall said: "It's just completely bonkers, I don't think it's quite sunk in that we've taken Gareth Southgate and Tracey Neville to the cleaners.
"It's coming home. But it's coming home to Otley".