'Hundreds' of Suspects in Rotherham Exploitation Investigation
6 June 2016, 15:36 | Updated: 6 June 2016, 16:30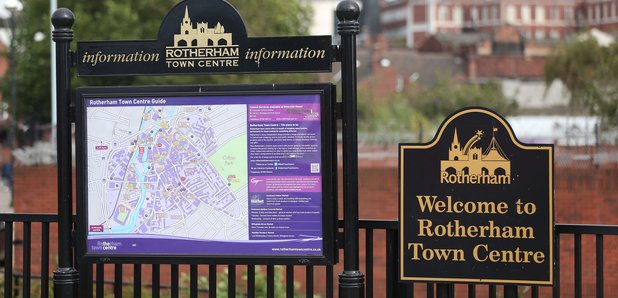 The investigation into large-scale child sexual exploitation in Rotherham now involves 29 "designated suspects'' and hundreds more "potential suspects'', according to the National Crime Agency (NCA).
The NCA said its investigators have made contact with 82 victims and survivors from the South Yorkshire town, since it was brought in following the 2014 Jay Report.
Professor Alexis Jay's report shocked the nation when it detailed how 1,400 children had been raped, trafficked and attacked in Rotherham between 1997 and 2013 by gangs of largely Asian men.
Today, the NCA acknowledged that the 82 victims it had contacted represented only around 5% of the potential number of victims and stressed the painstaking and delicate nature of its ongoing inquiry, called Operation Stovewood.
The agency was giving its first update on Operation Stovewood since June last year when officers said they were looking at around 300 potential suspects.
The NCA began investigating the Rotherham abuse in December 2014 following a request by South Yorkshire Police, who have been heavily criticised in the wake of the Jay Report for effectively ignoring the victims over more than a decade.
Operation Stovewood, led by senior investigating officer Paul Williamson, is now the largest ongoing law-enforcement investigation into non-familial child sexual exploitation and abuse (CSEA) in the UK.
The NCA said 69 officers are working on the investigation but funding has been agreed to enable this number to increase to 117 during 2016/17.
It said the investigation has identified 10,130 lines of inquiry and collated 120,000 documents from police, council and health services which have never been brought together before.
The agency said 91 serious sexual offences have so far been identified from interviews with victims and survivors.
The NCA said in a statement: "The investigation has, so far, been divided into eight specific major investigations, reflecting its scale and complexity. Further distinct investigations are likely to be added.''
It said: "The investigation has prioritised making contact with 82 victims and survivors, linked to the priority investigations, recognising that this is only a small percentage (5%) of the overall potential number of victims and survivors in Rotherham.
"Victims and survivors interviewed are providing a substantial amount of information to the investigation. Victim interviews can take many weeks or months to arrange and often have to be conducted over a number of weeks. One victim Stovewood interviewed has provided information about nine further victims, 17 witnesses and 40 potential suspects. This demonstrates the scale and complexity of sexual abuse under investigation.''
The NCA also said its officers had made 240 safeguarding referrals to Rotherham Council in relation to children who suspects or potential suspects may have access to.
Operation Stovewood is part of a complex series of investigations which were set up in the wake of the Jay Report.
Operation Clover - one of a number of South Yorkshire Police investigations into child sexual exploitation in Rotherham - had it first major success in February when three brothers from the town and some of their associates were given substantial jail sentences.