Heatwave Causes Spike In Grass Fires
3 July 2018, 11:29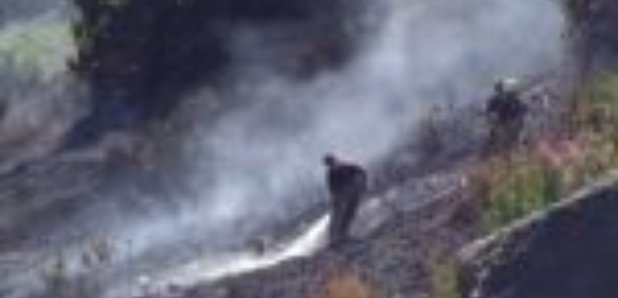 The heatwave has caused a spike in grass fires across West Yorkshire.
West Yorkshire Fire and Rescue Service has been dealing with an unprecedented number of grass fires.
Since last Thursday, firefighters have attended 678 incidents in total of which 438 were fires in the open - largely grass and rubbish fires.
On Thursday alone firefighters were called to 99 fires like that across West Yorkshire.
Meanwhile our specialist wildfire units are still helping tackle the Saddleworth Moor fire across the border.
Area Manager for Service Delivery Chris Kirby said: "We have all seen the destructive nature of wildfires from the images of Saddleworth Moor and we do not want to see something of that scale happening in West Yorkshire.
"Right now that is not unimaginable.
"We have now had such a long period of sustained sunshine that the vegetation is tinder dry and will burn very rapidly should it come into contact with a heat source such as for example a barbecue.
"Fires like these are not only labour intensive to fight but they also have the potential to spread and pose a risk to property and people.
"The fire severity index is an assessment of how severe a fire could become if one were to start. This is currently mapped at 'very high' for England and Wales.
"We cannot stress our fire warning strongly enough and we do need the general public to be more vigilant and take extra care when enjoying the moorlands or in the countryside.
"Small embers or sparks from barbecues, or even carelessly discarded cigarettes, can be all it takes to start a small fire which can very quickly become a large fire and the consequences could be devastating."