Campaign To Save Giant Otters
20 November 2018, 12:22 | Updated: 20 November 2018, 12:42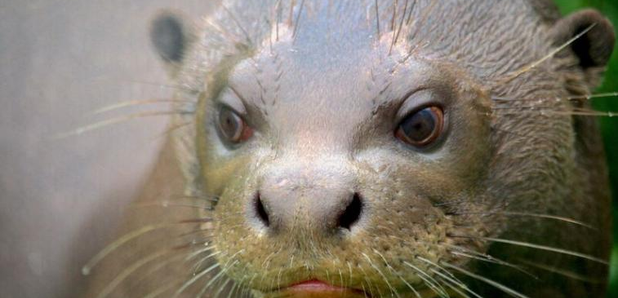 A vital campaign to save endangered giant otters has been started by the Yorkshire Wildlife Park Foundation.
The project will collect information and data about the animals in their native country, the Brazilian tropical rainforests.
Their habitat over there is threatened by habitat loss, over-fishing and poachers.
The Foundation has announced nearly £10,000 for the scheme yesterday (Nov 19) to coincide with the 6th birthday of Alexandra, one of the park's pair of giant otters.
Alexandra arrived at the park with her five-year-old sister, Mora, in September 2015.
Giant otters, which can grow to six feet long and eat up to 4.5 kilos of fish a day, were virtually wiped out by hunters trading in their fur, with numbers believed to have fallen as low as 300 in the 1970s before an international ban.
The species has recovered to around 5,000 but is still listed as Endangered on the IUCN Red List and the monitoring project will provide crucial information to help preserve numbers, educate local communities about their value to the ecosystem and raise awareness about their plight.
The park's Giant Otter Reserve was opened by Olympic gold swimming medallist Rebecca Adlington on March 2016.
One of the few strongholds of giant otters now lies in the Cantao state park wetlands that nestle between the Amazon rainforest and the Cerrado savanna in Brazil's interior.
The park reaches across 222,440 acres - more than 200 times the size of YWP - and is full of lakes, rivers, streams and flooded forests that are home to 300 species of fish and turtles, river dolphins and alligators while its trees feature more than 700 species of birds.
The conservation programme, run by the Instituto Araguaia charity, will involve field trips and setting up camera traps to record the habits of giant otters. It will provide the first robust assessment of giant otter populations and their conservation status.
Researchers will hire local people to help on the long-term project and continue the monitoring and awareness work and to educate local fishermen that giant otters are not competition to their livelihoods.